Forum home
›
Weight loss for your wedding
My weight loss journey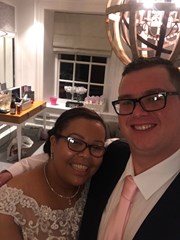 MrsHowgate
Posts: 1,150

Following on from yesterday's dress disaster I am going to start my own weight loss journey post. I've had lots of support from you guys on here and honestly it's meant a lot.
Until I join slimming world on Wednesday I have downloaded the My Fitness Pal app on my phone and I've dug out my bodyblade and 30 day Shred DVD which I am going to do every night.
I've taken all my measurements with the tape measure loose and weighed myself this morning. As of today it's exactly 2 stone I need to lose to get to where I was when I met Andrew. My current measurements equate to the shop sample size of my dress.
My plan is to walk 10000 steps a day, do either the bodyblade or Shred DVD daily, drink 1.5-2L of water a day and aim for around 1600 calories a day. I am going to measure monthly and weigh weekly.
I am collecting my dress at the end of January and plan to try it on again then.
Here we go 😄💪🏽