Forum home
›
Your planning threads
Summer 2018 Northumberland Wedding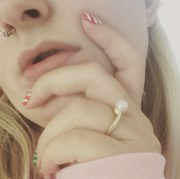 Awhelenqt
Posts: 782

***August 2019 Colourful, Fun wedding!***
I made a typo on the year in the title, and as you read on, you'll see the location is now up for discussion!
I love having a place to write down all my ideas (As if I don't already have a Pinterest board I've been adding to for years, and have started an old school scrapbook with moodboards for every single detail since getting engaged) so these planning threads are amaaazing.
How we met & the first date...
It's hardly the most romantic story ever told to be honest. It was August 2015, I'd recently gotten out of a 4 year relationship and considering I'd met him when I was 16, I felt like I'd missed an important time in terms of dating etc. So I was seeing what was out there using - you guessed it - Tinder! So I matched with my H2B and at first he told me he didn't think he was my type just because he was training to be a teacher and I worked in a sex shop lol but I told him in typical 'me' fashion it wasn't up to him what or who I liked and I wanted to meet him. Why he did, I have no idea. So we went for a drink in a pub before I started my shift, and I'm pretty sure I came across entirely mental. He probably thought we'd never see eachother again.
That night I had a work do, and my friends were trying to help me pick someone up in a bar since I'd never done it before but turns out I'm really bad at it. So filled with cockails, wine and coke, I decided to text H2B and he dropped everything to come see me - I guess he was really lonely lol it turned out he'd just moved to Leeds from Northumberland so knew no one and had nothing to do. Anyway so we went back to his place, had a great night and then when I went downstairs in the morning, I was surprised to meet his parents who he neglected to mention lived there haha