Forum home
›
Getting started
October wedding in a Vineyard 2019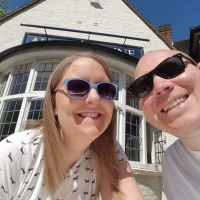 RoseyGold
Posts: 164

Hi all, 
Starting to plan my wedding to Mr Mc, here's our story...
How we met- Match.com, I actually thought I was replying to someone else. And I didn't look at his pic until after a few messages!
First date- Drinkies at local bar, so easy to chat too then he ran away (literally) at the end of the evening. I was really paranoid as I thought it had gone well. By the time I'd driven home he messaged saying sorry for having to run away as he was going to miss the last train home.
The Proposal- Last Saturday was the 3rd anniversary of our first date. He had organised a day out but it was a surprise. The Monday before my beloved Grandad passed away. Whilst we'd talked about 'our wedding' I was not expecting it to happen. The day before he told me I had to wear clothes that could get dirty, never a good sign!! On the way to the surprise I received messages from my family sharing stories about my Grandad trying not to be too emotional I was quiet, and he kept asking If I was OK. We arrived and we we're going on Segways! Something we'd talked about doing but not got around too. I was so nervous I got picked out to be guinea pig (or so I thought). So off we trundle and travel around some courses, trying to stay on the Segway. Then he stops turns around and drives toward me, I start panicking that he's going to crash into me. He then pulled out a ring box!! I was so shocked, I was shaking like a leaf and crying. He thought I was going to fall off!  At this point a guy flew over our heads on a zip wire shouting wahey. Made us both laugh. Not traditional way, but definitely his way.
Now to plan a wedding!