Forum home
›
Your wedding reports
Fireworks and Fairy Lights Wedding - 3rd November Report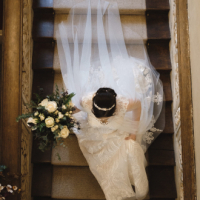 Nottinghamshirewife
Posts: 751

My wedding is now over 😔 and I'm already starting to feel that wedding shaped hole and desperately am in need of something to fill it! So, thank you to Leigh on the November thread for suggesting we all start a report. I know traditionally reports aren't started until the professional photos arrive, but I'm not sure I'll be able to wait that long! Besides, I've taken enough of my own photos to get us started and I'll update when we get the professional ones back.

I'd better start with the mandatory 'about us' bit, so here it is:
The bride: R, 24 (25 next month - an important detail 😂), a primary school teacher. 
The groom: J, 26, a royal engineer in the forces. 

We are childhood sweethearts and have been togther for 9 years now. We met at a mutual friends bonfire night party when we were 15 and 17. Things grew from there.
Eventually, I went to uni and we got a place together, which is when J popped the question. We'd discussed marriage before and I said I wanted a low key proposal. It was just that, but so romantic and special! He got down on one knee and asked me the most important question I'll ever be asked, of course I said YES! As they say, the rest is history.