Forum home
›
Newlyweds
Wedding report 03/09/11 - The day I got myself a wife! (Flashes)
We got married on 3rd September, and now that we're back from an amazing honeymoon and I'm finally over the jetlag, I thought I'd share our day.
After spending the last 2 years of wedding planning reading all of the reports on here, I couldn't wait to write mine. But now that it's actually my turn, I don't know where to start!
Just to give you a bit of background, S and I have been together for 6 years, since we were 22 and 23. Since the day we got together we've done everything together, so wedding planning was no different. We chose everything from the rings, to the venue, to the dresses together. Yes, we broke that tradition and we also stayed together the night before and got ready together in the morning - we figured as two brides we could pick and choose which traditions to follow and we wouldn't have wanted it any other way!
I won't go into detail about every wedding decision that we made, but the planning was a really enjoyable experience. Here are a few pics of some of the details before I talk about the run up to the wedding...
Invitations by Natalie @ Inspire me designs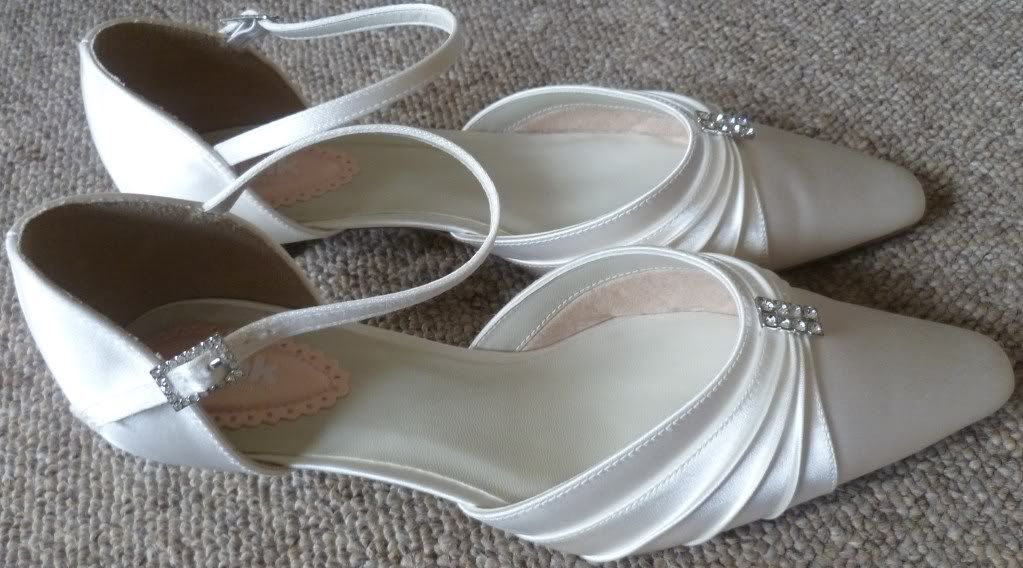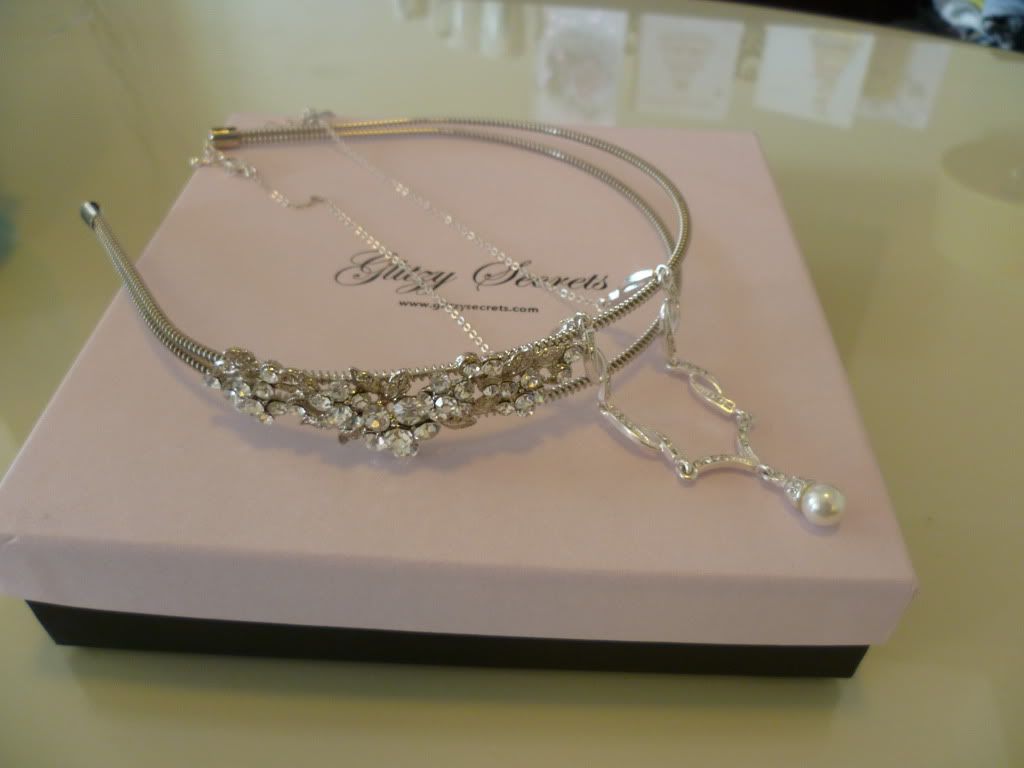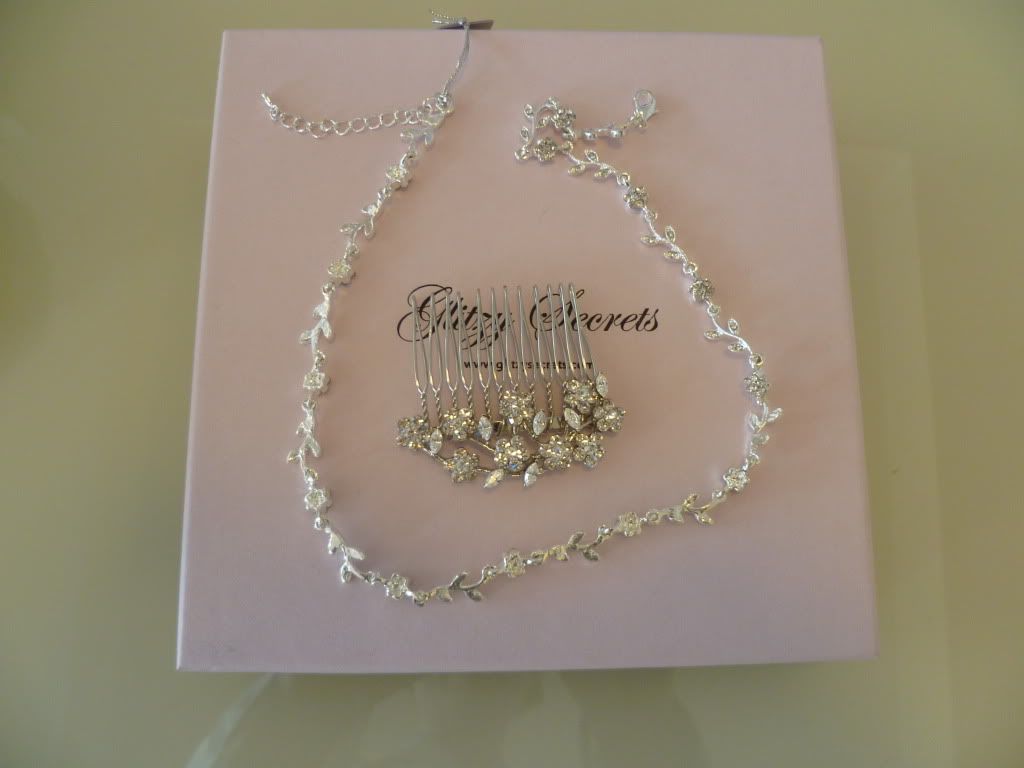 Shoes and jewellery
Our car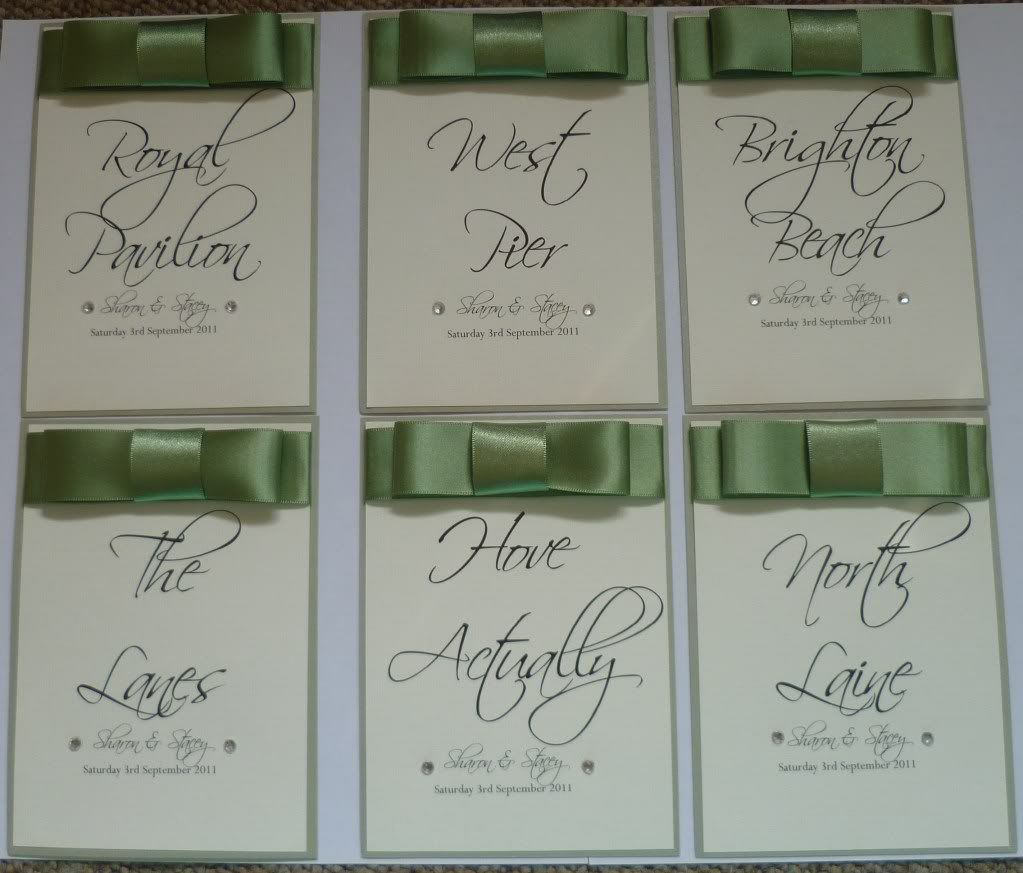 Table plan and table names by Sarah-Jayne @ the paper doll
Thursday 1st September
In the week before the wedding my best woman arrived from Singapore with her partner, to help with the wedding preparations. Our first appointment of the day was to collect our dresses. As we picked out our dresses together, nobody had seen them other than us until this point. It was a great moment seeing their faces when they saw us in our dresses for the first time, and it all suddenly seemed very real and very exciting.
We then had a meeting at both the ceremony and reception venues to discuss final details, and to drop off our music and table decorations. We also took this opportunity to show our friends around as they hadn't been to either venue before, and on the day we were relying on them to show guests the way from the ceremony to the reception venues as they were a 5 minute walk apart. We were having our ceremony at the Royal pavilion at Brighton, which is a historic building and has some beautiful rooms - the functions organiser kindly let us take our friends on a tour free of charge, so we sneakily showed them where things would be happening on the Saturday.
In the year prior to the wedding I'd been dieting, and managed to lose 3 stone. I had a minor panic in the last week when I realised that I'd lost a couple more pounds since my final dress fitting, and I kept imagining my strapless dress falling down on the day! So that night we all went to the apartment that my best woman had rented and had a nice relaxed evening of pimms, and a LOT of food in a desperate attempt to gain 2 pounds in 2 days..! (It didn't work, but it was fun anyway!)
Friday 2nd September
The day before the wedding - this was probably the most hectic day of all. In the morning we took our cat to the cattery, as we were going on honeymoon on the Sunday. We stayed at the reception venue the night before the wedding as well as the wedding night, so after coming home and loading the car we drove down to the seafront to check in and drop off not only our dresses, shoes, accessories and clothes to get ready, but also 2 massive suitcases and 2 travel bags for the honeymoon! Unfortunately as anyone who has ever been to Brighton will know, the traffic and parking was atrocious, so we ending up pulling up in front of the hotel with the hazard lights on, while S sat in the car and I took three trips up to the room to drop off all of our stuff. It was worth the trouble though, as the penthouse suite was amazing - probably bigger than our flat!
I forgot to mention that it was 12.15 by this point, and we were due to pick up my Mum and Sister from the train station at 12.30! So after running back to the car we swiftly drove to the station and arrived just in time for them to exit - phew.
The rest of the day was taken up by lots of relatives arriving, showing family around the sights of Brighton, and a big family meal at a restaurant for anyone who was in town. Although we've been together for 6 years our families had never met, as mine are in Kent and S's are in Suffolk, so it was quite stressful to say the least. Eventually we got back to the hotel and set everything out for the following day, before getting a good night's sleep.
The wedding day
We woke up bright and early for our champagne breakfast, which was due to arrive at 8am. We were supposed to have this on the morning after the wedding, but as we had to leave so early for our honeymoon we arranged to have a full english on the wedding day so that we didn't get hungry during the day. It was a feast, and really did the trick! Neither of us were that nervous, and we managed to finish this monster...
At 10am our hair and makeup lady, Amy, arrived. We showed her the pictures that we took at our trial, and she got to work putting our hair up in curlers. S's Mum also arrived to have hers done, and before we knew it, it was 12pm and more people began to arrive at the room - my best woman and S's best man arrived to help and to collect buttonholes, and other family arrived by 1pm as they were due to go in a first car run to the ceremony venue.
Our flowers were beautiful, we were so happy with them. Here's a pic of our bouquets when they arrived.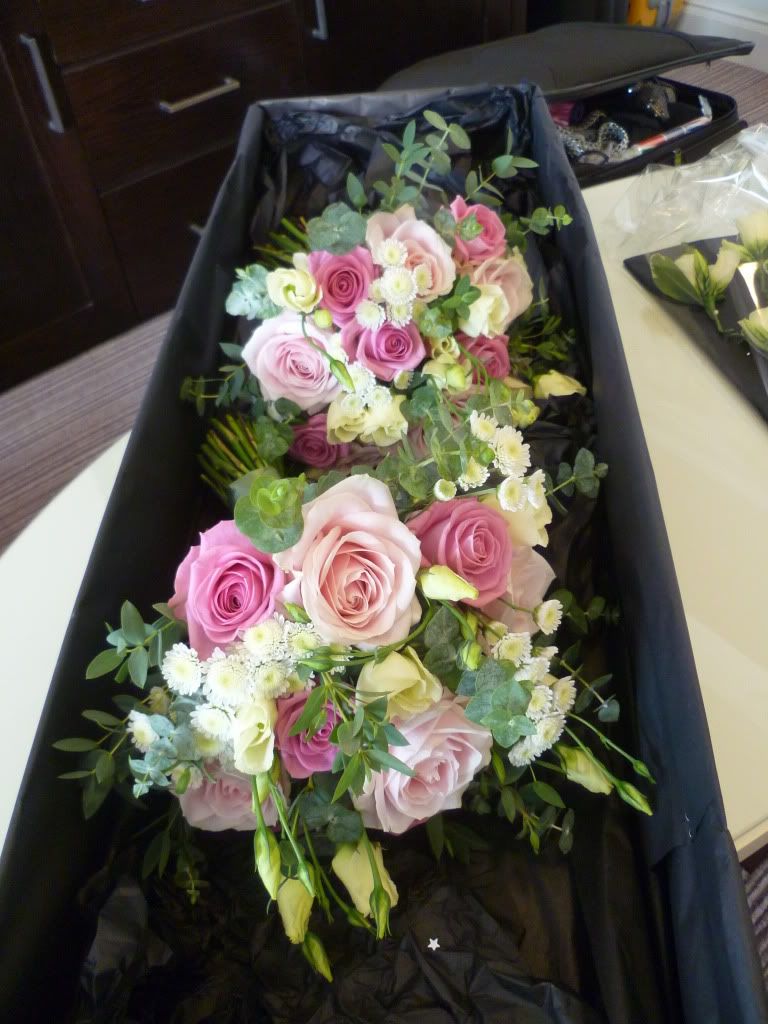 Eventually our hair was finished, and Amy helped to get us laced into our dresses. Here's us once we were ready, and waiting for the car.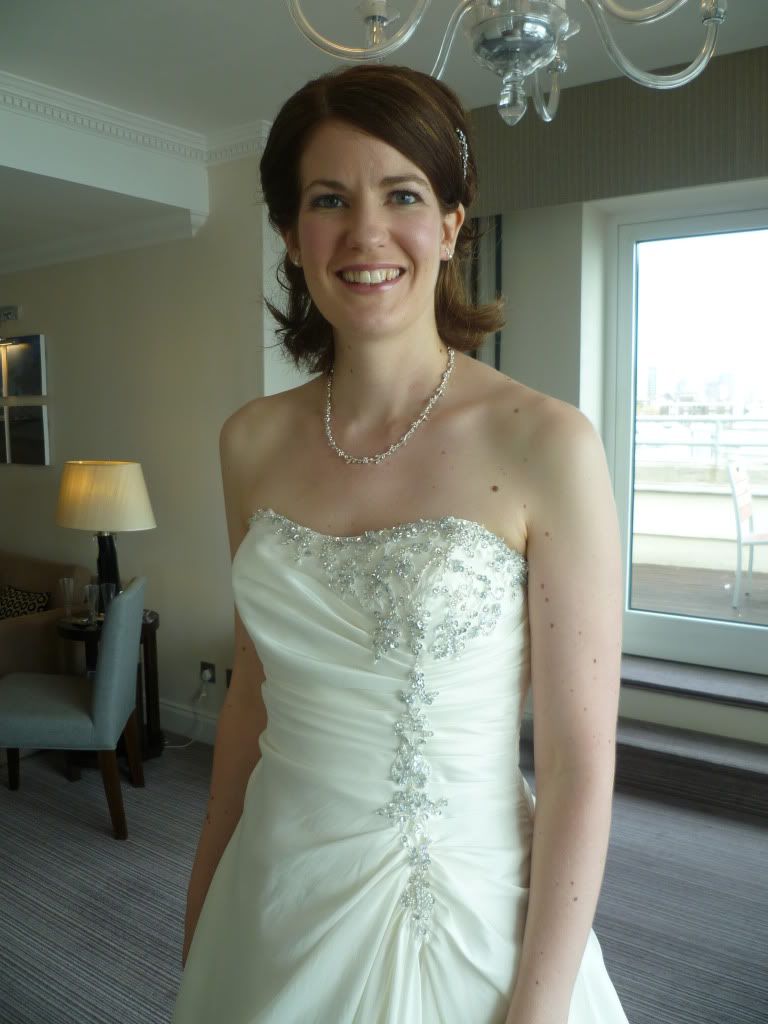 We sent off everyone to the ceremony venue, and then it was just us! The car was taking our close family and the coming back for us, and as the venue was 5 minutes around the corner that should have been no problem. Unfortunately the car got lost, and ended up being late coming back for us only 5 minutes before the ceremony was due to start instead of half an hour. We'd made the decision to travel there together, but looking back we realise that this probably wasn't the best decision as we were stood in the lobby waiting for the car without a phone or a watch between us! Thankfully the car did arrive, and we were only slightly late, but it was a very stressful wait and we arrived at the venue slightly more frazzled than we'd anticipated.
We were ushered into the side room, where we met the registrar and our parents. We had 5 minutes to de-stress and have a few photos, while we could hear our music playing from other room. We were walking in together, so when we were ready we sent our family in to sit down, gave the registrar the nod for the music, and took a deep breath!
S is quite a shy person, and looked quite petrified at the thought of walking in and speaking in front of all of the guests, but once we walked in and saw everyone's faces it was all Ok. It's all a bit of a blur now, but I can remember looking around and catching a few people's eyes as we walked in, and I remember S standing on the back of my dress so I couldn't sit down! After a few meaningful looks (and maybe an elbow in the ribs) she realised and we both sat.
The ceremony was perfect - we'd included some of our own vows and even the registrar's words were beautiful. I didn't think it would get to me saying the words out loud but it did, and my voice cracked a couple of times. We had a few comments from guests afterwards to say that the ceremony was lovely and that they especially loved the vows.
Before we knew it we were exchanging rings, and signing the register. After some photos we left the room to one of -our' songs, Happy Together by the Turtles.
When we left the ceremony room the guests were taken outside to the grounds, while we were escorted to the Pavilion's music room - this is beautifully ornate and perfect for photos. As the pavilion is open to the public, and this room was a part of the public areas, we had a few fans watching us have our photos taken!
Once we receive our official photos I'll post some here.
We then went outside to a confetti greeting, and lots of photos in the gardens outside. At this point we could actually see all of the guests, and breathe a bit! Faye, our photographer, was fantastic - she got all of the group shots done fairly quickly, and bossed people around while being perfectly lovely! We then sent the guests on to the drinks reception, while we stayed behind for some more photos with Faye. These are some of my favourites from the day, from the few we have access to at the moment.
After the photos we headed back in the car to go to the drinks reception, and we joined our guests with a glass of kir royale before heading in to the wedding breakfast.
The room looked beautiful and the meal was amazing, but my dress was laced up so tightly that I could only eat so much! We then moved on to the speeches - S's Dad gave a really touching speech, he hadn't been too enthusiastic about giving a speech beforehand but he did really well on the day. Then it was my turn! I have no idea why i agreed to give a speech, but somehow I got through it and hopefully it wasn't too bad - though there were quite a few umms and aahs, and according to guest photos some very strange expressions!
My best woman then gave her speech. We'd been a bit worried abaout this one, as she can be a bit blunt at the best of times, and earlier in the week she'd asked me how young the youngest guests would be and whether she could swear and tell naughty stories in her speech! After a few (firm!) guidelines from me, she gave the best speech that I could've asked for - I swear she's missed her calling as a stand up comedienne.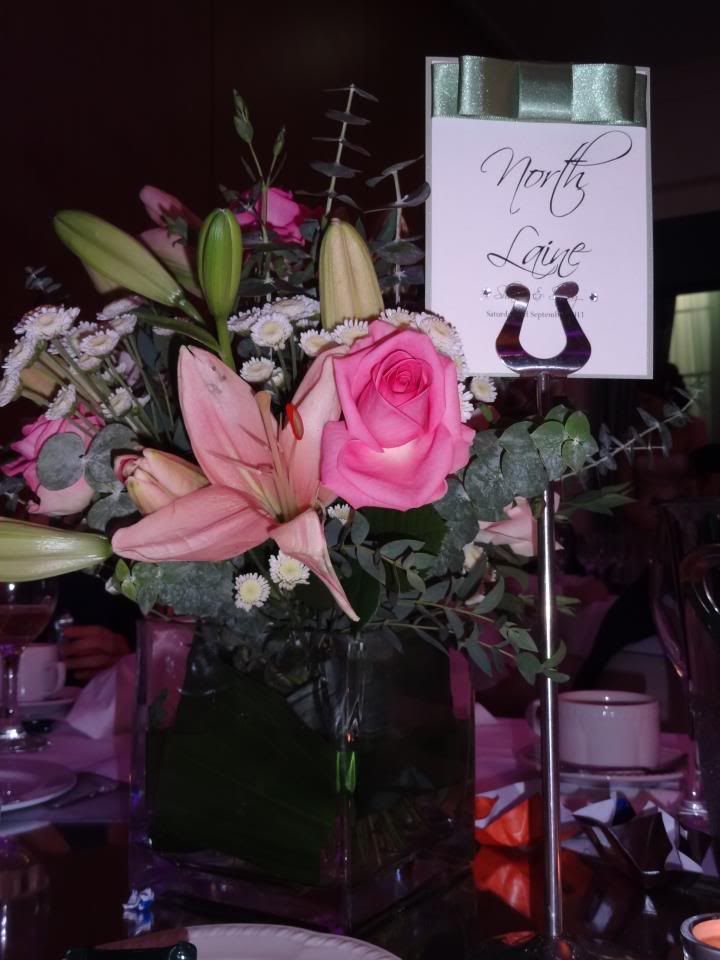 After this we had an hour gap before the evening reception, so we took this time to go to the beach with our photographer for some more couple shots. I really loved this time, as all of the stressful part of the day was over and we could just enjoy being celebrities! The amount of people on the seafront taking photos and commenting was amazing, and completely unexpected.
After some photos by the pier, Faye took us over to the carousel and we hitched up our dresses for a ride! This was so much fun, and we got some great photos.
After this we went back to the hotel, and after a 5 minute hair tidy and lippy application we were ready for the evening reception. I won't go into detail about the evening, but it was so much fun and everyone seemed to have a brilliant time - some too much!
Here are a few pics of us cutting the cake and our first dance.
So that's it, our day was over! Here are some of our other favourite guest photos for all of you people who like flashes I've also added a couple of our honeymoon, which was amazing. Anyone heading to Mexico (Excellence Riviera in particular) will have the best time - the perfect ending to the wedding.
Thanks for reading everyone and good luck with your weddings!
All pictures either supplied by our photographer (Phase Photographic) or guests.