Forum home
›
Newlyweds
Mr and Mrs Beau - Our Gorgeous Summer Wedding
Well ladies its official, all done and dusted!! I am so happy to now be Mrs.B! It is a great feeling but also strange, I almost can't believe its all over! Seems like only yesterday that Mr.B proposed!
I thought i would do a mini report before we jet off on our honeymoon tomorrow, i only have mainly guest pics, so will put some better ones up at some point!
We had a largeish wedding of 110 day guests and another 50 in the evening. We picked a beautiful Georgian style country house hotel for our day, which meant that i could stay the night before, and a both us and our guests could stay the night of the wedding too. I dont like the old vintage cars at weddings, so it made sense to stay at the venue, and also it meant that the party didnt have to end when the music stopped at 12 as the residents bar stayed open as long as people were drinking.. we headed to bed at 2.30 am and the last guests went to bed at 5am!!! We also had brekkie with everyone the next morning which was fab, and lovely to chat about the day.
If i can give any advice to other brides to be, it would to be organised, even if people make fun or call you a bridezilla.. i was extremely organised and as a result, the week leading up to the wedding was lovely, and on the morning i was completely relaxed - several suppliers commented that they had never seen such a relaxed bride!
The weather was rubbish all morning - cloudy and raining hard and i have to be honest and say that i was dissapointed and even though i tried not to bang on about it, i felt like it was the only thing that might take the edge off the day... but as i was finishing having my hair and makeup done, the rain stopped and the sun started shining! It stayed that way all day and everyone loved being out on the lawns and terrace having their drinks and canapes after the ceremony.
Our registrar and her assistant were absolutely lovely and made the ceremony very special. The Groomsmen set up a video camera to capture the ceremony and we watched it back last night - totally fab idea

I am rambling, and need to pack, so here are what we all really want on these reports, the pics!!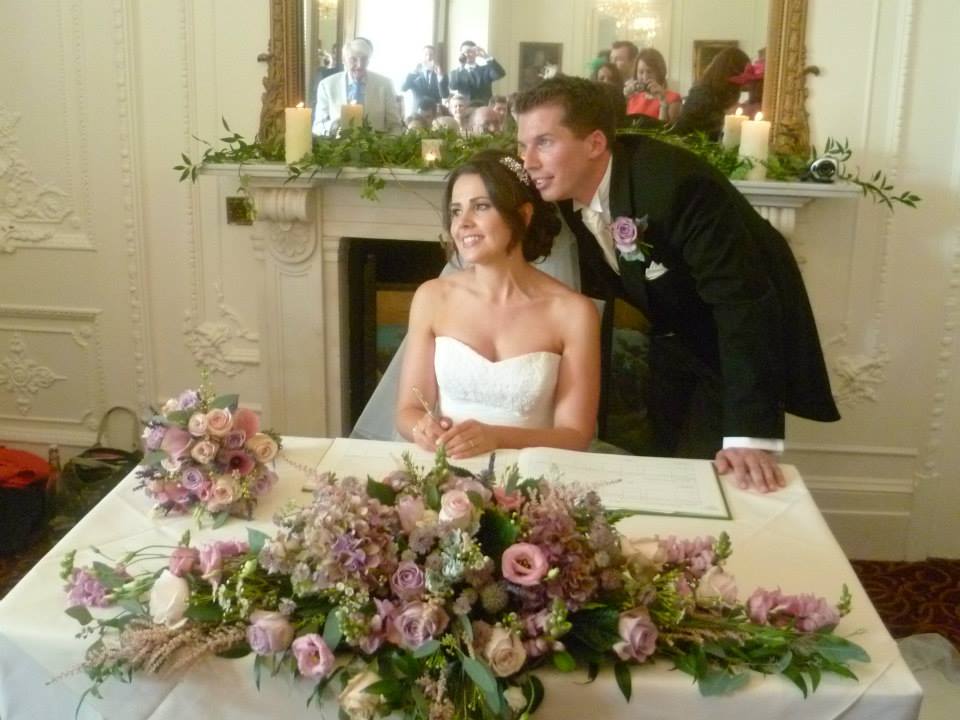 We are off on our dream honeymoon tomorrow, so will update with prof pics when we are back!!

Best of luck to all the ladies who are getting married in the coming weeks!!!
I will also be posting a massive list of bits for sale when we are back