Forum home
›
Emotional support
A horrible situation...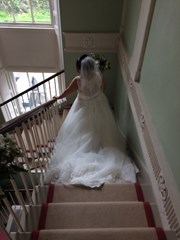 Scottishbride2016
Posts: 173
Hi everyone, I'm not sure if I'm looking for advice or just a safe place to share my thoughts. I'm getting married in just under 3 months after planning the wedding for almost 2 years so I'm very excited.
However, my sister (and MOH) and her husband had a trial separation at the start of the year as they weren't getting on. During that time, she has made constant snide remarks about how a wedding is a waste of money etc and it might not last. I totally understand why she feels that way but I'm on such a downer about it now.
At the weekend, she announced to the family that her and her husband have decided to divorce, after 2 years of marriage. They haven't told their kids yet and apart from close family and friends, nobody really knows that they have separated.
My sister told me in confidence that she has met someone else - a guy she works with. I have a horrible feeling that it's been going on longer than January. Anyway, she has invited him to the wedding for the evening reception without consulting me. I'm pretty annoyed, especially as I didn't know he existed until 4 days ago! She said she's going to tell our parents about him before the wedding but it's likely that they wouldn't meet him until the actual wedding. Her kids will be leaving the wedding early as they have school the next day so she wants the bf to arrive once they leave.
I feel like I've lost control with our wedding and I don't know what to do! My OH thinks she's being completely unreasonable and selfish. I can't speak to my parents about it because they're blissfully unaware of the bf. I really don't want him to come but I don't want to risk falling out over it. I haven't slept for days, I just don't know what to do.