Forum home
›
Your planning threads
Our civil partnership- FEBRUARY 2020!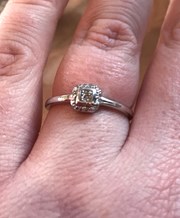 princessmaire1
Posts: 43

I've read enough of these threads that i should know how it works

but our story is a little unconventional so I'll explain first before going into how we met etc.
Our plans
Some of you may have seen that on 2 October Theresa May announced that the law regarding opposite sex couples having civil partnerships would change following a successful court case brought this summer. A lot of couples- us included- celebrated madly at this. My fiancé (P) was adamant that he never wanted to get married as his parents' acrimonious marriage breakup when he was a very young child scarred him. My dad is in poor health and I'm very much a daddy's girl- I had really wanted him to walk me down the aisle but given P's flat refusal to ever commit I had become resigned to the fact I would be Miss forever and never get married
However when I saw the result of this case back in the summer I mentioned it to P and I was shocked when he actually seemed quite interested. When the decision was announced on the 2nd, we talked it over and decided we would go for it as soon as the law was changed.
However the issue we have is there is no timescale
the bill which will enable the law to be changed is about to have its third reading in the House of Commons after which it needs to have three readings in the House Of Lords. We are hoping that things move very soon as we want to get it done ASAP due to dads health so we're keeping fingers crossed.
I have however started to make plans....