Forum home
›
Emotional support
I know i am in the wrong to feel this way but.....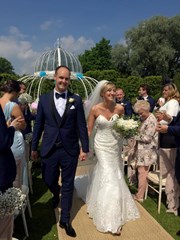 MrsG2bxx
Posts: 868
I'm going to try and be really brief as this is a really long story and if you have ever read my planning thread all details are in there about this friend...
I have 2 best friends that I have grown up with Lucy and Alex, myself and Alex were bridesmaids at Lucy's wedding.  When Alex got married she didn't have any bridesmaids.
My wedding is in 9 months time and I haven't picked Lucy or Alex to be my bridesmaids....they were my first choice but when I got engaged Alex said that she would be happier as a regular guest, she was pregnant at the time with her 2nd & said she'd enjoy a day of no responsibility.  Lucy said that her and her hubby were trying for a baby and she wasn't sure if she would be pregnant at my wedding or during dress fittings etc. So we decided not to add any stress, they wouldn't be BM's & I was only going to have my sister, my little niece and Alex's oldest DD as my flower girl.
A few months pass and my OH asks 8 of his friends to be ushers which totally swamps out my tiny bridal party, so I decided to invite 2 of my other friends (still best friends of mine since I was a teenager) to be BM's - I didn't think this would be an issue.....Alex and Lucy were happy as anything to be guests!
I told them I had asked 2 friends to be BM's - Alex was fine, didn't bat an eyelid....Lucy burst into tears!! she threw a fit in the middle of the restaurant! we all left and I got home to 5 or 6 abusive text messages from her, telling me I was a liar and how could I do this to her, that she wouldn't watch me walk down the aisle unless she was involved! it was a heart breaking time and I told her she was no longer invited to the wedding and to not contact me again.
The texts kept coming, every day she messaged me to ask if I had told the other girls yet that they couldn't be BM's and told me I wasn't to have any BM's unless she was one of them, I told her 'you said you were TTC and that you didn't want the stress of my wedding' (her words exactly) she said that she would put TTC on hold if she was a BM but by this point I wasn't going to ask her out of principle - I don't believe you should act that way (we are all in our 30's)
So fast forward 6 months and things have now calmed down, our friendship isn't the same, but we are pleasant to one another and she is invited to the wedding as a guest - not that the invites have officially gone out yet!
<span style="font-f