Forum home
›
Emotional support
An awkward position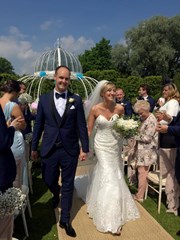 MrsG2bxx
Posts: 868
To those of you that have read my planning thread or seen other related posts, this is again about the one girl who has given me constant stress since getting engaged.....so here goes...
She is pregnant and due beginning of May (our wedding is May 25th) this is her first baby.  Our invites went out last month and on the RSVP card it states that we are having 'no children apart from immediate family'.
My OH had 3 phone calls in the space of one week - his friends called to say they had seen our note but they had babies that would be under 2 months old and breastfeeding so did it apply to them also - my OH stayed firm and said that yes unfortunately it does include babes in arms.  One couple declined which we totally expected as their baby is also due early May and they weren't sure they would want to leave it.  The other 2 couples - the men are coming and leaving their wives at home, that's up to them!
I saw my friend the other night and the wedding wasn't really mentioned but as I was getting my coat on to leave she said 'oh hold on I have this for you'  she handed me the RSVP ticked 'yes' but said 'we are a maybe - we ticked yes but we are gona see how we feel once the baby is here and make a last minute decision or maybe just pop along to the evening'
I was a bit taken a back so I just said 'oh ok' and left.  When I got home OH asked 'does she know she cant bring her baby, especially now that I have stayed firm with my friends'  I said that I didn't know? she didn't ask or mention the note about 'no children' my OH thinks that she will think that the note doesn't apply to her as she always seems to think she is more important than anyone.
Now that I have had time to digest what happened and what was said I am concerned about having a 'maybe' response to the wedding.  Its an expensive 'maybe' and also very stressful when it comes to table plans later down the line.
The awkward position that I am in now is; Do I talk to her and say that I cant really accept a 'maybe' but also I totally understand that she cant give a definite 'yes' as she has no idea how she will feel - her baby at worst could be a week old and there is no way she will feel up to a wedding and I don't blame her, but I also don't think that's mine and my OH's issue and we shouldn't have to fork out for it.  The only definite answer she can give is a 'no' but then technically am I un-inviting her from our wedding?
There is also no way she would want to leave her tiny baby, and I do believe that she thinks the rule doesn't apply to her which in itself winds me up after everything she has put us through.
I just want this sorted so that I can start to relax and enjoy the countdown to our wedding! xxxx