Forum home
›
Emotional support
Well thats a slight spanner in the works...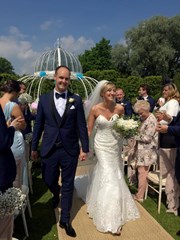 MrsG2bxx
Posts: 868
After all of the BM drama I have had from day one all I can do is laugh!!!
Its 3 months till my wedding and on Saturday I received a call from one of my BMs telling me she can no longer come to my hen do and wont be able to be a BM anymore.
BM dresses, shoes, accommodation, jewellery, etc is all paid for by myself and my OH and were all bought a few months ago therefore there is no chances of refunds.  Its not about the money though to be honest, I'm feeling down for a few reasons but I know it cant be helped and there is no point feeling sorry for myself.
She is pregnant. I am of course over the moon for her and excited and haven't let her know at all that I feel a little crushed. It wouldn't be fair on her.  She was worried about telling me and about the money I've spent on her, I've just told her not to give it another thought and that she needs to concentrate on herself and the baby now and we will be fine making the changes to the day.  
Honestly, all I can do is just shrug it off and carry on. xxx