Forum home
›
Emotional support
Another drinking partner down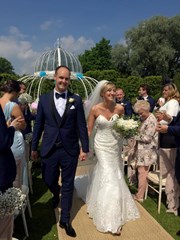 MrsG2bxx
Posts: 868
I have 6 best girl friends. 
As some of you may know one of my BMs bailed on me at the weekend and says she can no longer be a BM or come to my hen party as she just found out she is pregnant...
One is due her first baby 3 weeks before my wedding, we have had on-going problems but have recently made up - she isn't coming to my hen as heavily preggers and will try her best to come to my wedding.
The third...and hopefully.....final best friend has just emailed me to tell me that she is pregnant now. She said its very early days so she will play my hen do by ear for now but she will deffo be at the wedding she just wont be drinking...fair do's!
I've just come on here to have a small cry....I am soooo gutted that the last one is pregnant at this point in time, only because she is my very best drinking buddy and we've joked the whole time about my hen being a re-enactment of our youths!!!! we've both been texting  about drinking Smirnoff Ices and doing Apple shots etc! lol!!
I'm down to 3 girls now... I prob sound so selfish and I totally agree that everyone has their own lives to lead...but for right now in this moment I just want to feel sad for myself!! I lost 2 drinking buddies in the space of 6 days! waaaaaaa!!!!xxxx