Forum home
›
Emotional support
Top table worries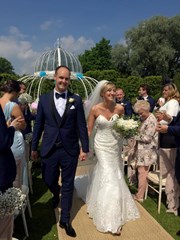 MrsG2bxx
Posts: 868
I've had this sorted in my head from the start but now that its getting closer to the day I am starting to really doubt myself and worrying that I will look like one massive cow in front of my dads family.
Some background: My dad left my mum when I was 12.  He had an affair.  He broke my mums heart and crushed us as a family, he told us he was leaving and went that very day.  I am and always have been a total mummies girl, I cant say I've ever had a bad relationship with my dad but we certainly haven't been close and I wouldn't really think to call him if I needed help or advice, I would go to my mum...then sister....then friends etc...but never dad.
My step-dad has been a huge part of our lives, he moved in when I was about 15, he helped me through college, buying my photographic equipment etc, he went with me to buy my first car, he rescued me when my first car then died....he has been there through the heartbreaks, the teenage tantrums, picked me up from the middle of London in the early hours after a row with an ex when I was 18! ....you get the picture.  We are very close and I see him once a week if not more.
My step-mum has been in our lives around the same amount of time.  She wasn't the 'other woman' so there is no resentment or no ill-feeling towards her.  Myself and my sister have genuinely tried to have a close bond with her but she has never really been interested and made it quite clear growing up that she only really wanted a relationship with our dad and we were just a nuisance getting in the way!
At my dad and step-mums wedding they told us we couldn't be bridesmaids as step-mum didn't want any form of bridal party, we didn't mind one bit and went happily along to the wedding, I was 17....my little brother was 9.  In walks step-mum followed by her nephews in matching suits to my dad, while my little brother was sat next to me in a suit my mum had taken him out to buy.  We watched as the nephews were in all the wedding photos - my little brother feeling totally left out and hurt.  I remember getting home after the wedding and crying my eyes out at the pain of seeing little brother being totally ignored by his dad and new step-mum all day! my dad also sat us at a table near the back next to the fire escape for the meal, we weren't even near to him.
So to my dilemma...
I want my top table to go as follows;
MOH (My sister)
Step-dad
Mum
Dad
Bride
Groom
MOG
FOG
Best man 1
Best man 2
Is this going to look really bad that my step-mum has been left off the top table? my dad and SM have had no involvement with our wedding.  They barely even ask us about it on the rare occasions we see them.  I'd still like my dad to give a speech and he is my dad so feel I want him with me, but I'm not fussed about SM.
I'm meeting my dad next week to go through the runnings and timings of the day and am going to broach the subject with him then.  I'm not sure how to word it, but thought I'd see what kind of opinions people have first in case I cant see what a huge no this is?!
xx