Forum home
›
Emotional support
Best Man Problem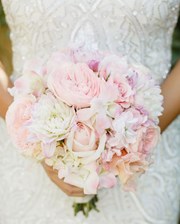 MrsBell2Be2018
Posts: 166
Hi all,
 Hope someone can help me out, will give a little background story first.
so I have 3 sets of parents
Mam and Dad J had me (Real Dad)
Then they got divorced when I was just a baby. Mam remarried to Dad S and he raised me, but still seen dad J every week.
Mam and Dad S had my little sister then got divorced when I was 9. I still seen Dad S all the time and got treated the same as little sis.
Mum then remarried to stepdad 5 years ago. so I have 3 sets of parents. Dad J and Dad S also remarried in that time.
H2B similar his mam and dad split and also remarried so that's 5 sets of parents between us.
Now we decided to NOT have parents on top table as it would be out the door into the carpark haha  and have gave them each a table of their own to host. so we have decided that for the top table seating we would like:
Bride, Groom, Best Man(his brother 1), MOH, usher (his brother 2), bridesmaid (my sister)
When we asked Brother 1 to be best man. he accepted the role, but he is a quiet man so were not expecting a huge funny speech.
Best man has now text us asking for his Girlfriend to sit at top table. I love this girl and we are close but I wasn't planning on having other halfs at our top table. If I let the GF sit at top table is it not fair on MOH, bridesmaid and usher as their Other halfs would not be at table.
I have told him this but then he is saying that he needs his GF there as he is nervous to make speech (I understand this but what is he going to do ? hold her hand while he does it) and he doesn't want to eat on a table with a bunch of strangers (its his 2 brothers, my best friend and sister who he has known for 10+years)
I said to him it will be for a hour tops. Just while we do speeches and food (its a buffet style) but he is having none of it, saying if she not on top table he wants to sit at parent table with her instead ! (wich is right next to us with brother 2 GF there) 
The whole wedding planning process has been so stressful with all the parents having their say etc. and now I'm getting to a point where I'm going to start being a bitch and just saying NO. to peoples requests.
The way I see it when my H2b is going to best man for him, I'm not fussed that I wont be at his top table, and will be on a family table. this is fine by be.
What can I say to him or any ideas for my top table ?
Thanks for reading through this. I understand I maybe confusing.
xxx