Forum home
›
Emotional support
Emotional support needed.....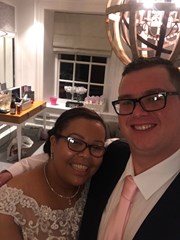 MrsHowgate
Posts: 1,426

Hello everyone.
I am struggling at the moment. My GP has signed me off with depression and re started me back on my meds. He has given me 2 weeks off work to rest and recoperate. 
I am feeling very low and have turned to food to cope. Since ordering my dress in January I have gained 9lbs and my dress is due in mid November. I am terrified it will not fit. The shop didn't measure me but instead ordered me a size smaller as they knew I wanted to lose 2.5-3 stone before the wedding and the sample was a little big.
They want me to go to get measured in September to see if I am near the measurements of the smaller size (my measurements are bang on the smaller size at the moment) and this is stressing me out even more. Even my dress I got for our engagement shoot (which I have postponed) is tight.
Tonight i am taking the plunge and rejoining slimming world where I lost 8 stone before over the last 5 years. I have also ordered some slimming tablets, Alli, to take to give me a boost and some aquaban water tablets as I retain water really bad.
I am not sure whether I can cope with starting a weight loss journey with how I am feeling at the moment but I don't have a choice.
Sorry to be Debbie Downer but I don't have anyone else to talk to. My H2B is amazing and he loves me how I am but I don't love me as I am right now.