Forum home
›
Emotional support
Drama with my best friend/MOH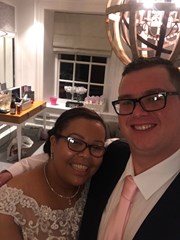 MrsHowgate
Posts: 1,425

I love my maid of honour. She's my best friend and I would do literally anything for her. She has seen me at my best and at my lowest and she stood by me.
You may remember when I first got engaged I posted that she was taking over my wedding. Well that dropped off after she could tell I was getting upset with it all.
Well today we had an arguement over whatsapp which has reduced me to tears all morning.
I brought her dress and my other bridesmaid dress in the sale from Debenhams shortly after I got engaged, she knew this and asked for a size 16 as she wants to lose 4 stone by the wedding. The dresses were 70% off. She asked me to send some pictures of shoes I liked for her to see which today I did. Well today she is being difficult. She has wide feet like me but keeps saying she won't wear this colour, won't wear shoes with bows etc.
She said it shouldn't matter whether the shoes match the other bridesmaid and that I shouldn't have brought the dresses because there is a risk she won't look right in it. I told her I would try and sell them and buy 2 more next summer. Again that was wrong in her eyes and she then said that it was my fault that I can't afford exclusive use of my venue because I keep making silly mistakes like buying dresses early. She forgets everything I have brought or ordered I have had discounts etc. Her parents are well off and her wedding was exclusive use, which she keeps reminding me of.
She then accuses me of stressing her out and guilt tripping her. I'm the one who drops things at the drop of a hat when she needs me or something. I don't know if I can carry on like this for another year. This wedding is brining out the worst in people. He daughter (my surrogate niece) is flowergirl and she had no problem with me ordering her dress early again from the sale!
Sorry for the rant and moan, just feeling fed up and want to burn my wedding planner and just run away.