Forum home
›
Emotional support
Free wedding coaching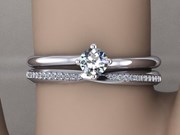 Kimberley23
Posts: 167
Hello wonderful brides to be!
I found this forum when I was planning my wedding in 2016 and it was invaluable for ideas and also for seeing that I wasn't the only bride experiencing not only the amazing side of wedding planning, but also some of the stress that goes alongside it. Whether it's well meaning friends and family giving you advice, the mother of the bride insisting on 'just an extra 10 people for the guest list', financial stress of even arguments with the love of your life over trivial things - all of these can make a beautiful time a bit more stressful.
It was around this time I worked with my first life coach, who really helped me think about what I wanted for the wedding, my vision and my values - where I would and wouldn't compromise. She also helped me gain confidence for the wedding day itself - walking down the isle with everyone's eyes on me was a scary prospect for me! I also wanted to relax and enjoy the day and I was terrified I'd be worried all day and unable to enjoy it.
Since my wedding in September 2016 (well, after the honeymoon!) I've been training to be a life coach myself and am specialising in brides-to-be and pre marriage coaching for couples. I am coming to the end of my studies and have two slots available for brides. 
I am offering 7 free coaching sessions of 45 mins over Skype (or if you live near me, we can do face to face). In return all I ask for is a testimonial that I can submit for my qualification.
If you're interested please do message me here or email me on [email protected] 
Can't wait to hear from you and help you be the bride you dream of being!!
Kimberley