Forum home
›
Emotional support
How to handle a very honest MOH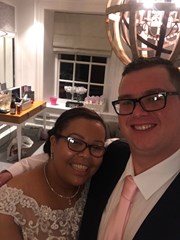 MrsHowgate
Posts: 1,433

My MOH is also my best friend. I am 'auntie' to her daughter. She has been amazing in helping me with wedding prep, coming to meetings with us etc but 2 nights ago she said a few things which has hurt me about the wedding. She is a very honest and brutal person.
I mentioned that I wanted to try and save a bit of money and instantly it turned to flowers and venue styling. 
While going through the florist quote she asked me if my tablecentres were necessary and couldn't I choose the ones which were 3 times less than what we're oaying right now. I told her no because our table theme has already been decided and I wasn't willing to change the look of it. She then reminded me how much her flowers cost (a lot less than mine) and said that I was trying to put on a show for our guests rather than doing what me and H2B want (we are doing what we want) and that we're trying to have a luxury wedding on a pauper budget. She reminded me that she had exclusive use of her venue which cost her over £25k and we didn't and said that we couldn't afford our first choice venue hence why she feels we are trying to spend beyond our means (we're not).
She then moved onto venue styling. Said the table runners weren't necessary because nobody will care, memorial/gift table would look cheap and various other bits.
She told me she's only saying this for my own good and to stop me making more mistakes with the wedding and I needed to think more. She then said she needed to try on her dress to make sure it still fit her and then made me cry but telling me I shouldn't have bought the flowergirl outfits so soon. I tried to explain I got them a few sizes bigger to take into account growth and she shot me down. 
I am now at a loss because it's now clear that she thinks our wedding is tacky and not like the grand affair she had yet on the other hand she was supportive of my whole dress saga and me only choosing the dress because she liked it.