Forum home
›
Emotional support
Not happy and I don't know why....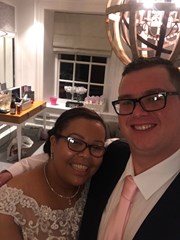 MrsHowgate
Posts: 1,425

This is going to be a downer of a post so i apologise in advance but I honestly don't know what to do.
I honestly don't know what is wrong with me lately. I'm just not happy. 
I'm struggling without my MOH being around at the moment. She's having a tough time and has taken a step back from me and the wedding so she can sort herself out.
The diet is not happening, only lost 2.5lb, and I am eating everything in sight and I am crying at the drop of a hat at literally everything which is making me eat more and more.
I am stressing over my illusion back dress because I have saggy boobs round my waist and no way can I get a backless bra and I have love handles which absolutely disgust me. I want to look beautiful on my wedding day and not a fat lump!
I'm now not having a hen party because my mum has left it so late that everyone has had their work shifts done already for June and can't get time off. Plus with my MOH out of action too my October hen is up in the air! 
I absolutely want to get married no doubt about it but I just cannot cope with planning a wedding anymore, it's turning me into someone I'm not. Jealous, overbearing, envious of other brides and their weddings. I just want to run away.
I don't have many true friends around me to talk to.