Forum home
›
General chat
Really upset 😢 Bridesmaid issues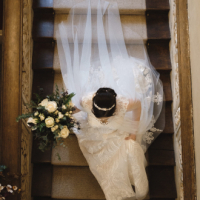 Nottinghamshirewife
Posts: 751

So something happened today with my one and only bridesmaid - my sister - and it's left me upset and questioning my decisions. I suppose I'm just after a bit of impartial advice from someone who is unbiased. 
So when me and my fiancé set a date my sister was one of the first people I told and straight away asked her to be my sole bridesmaid. She accepted and seemed happy to be involved (at least that's what I thought anyway).
Since then she's been quite difficult. She's not liked any of the bridesmaid dresses I've suggested. Although I am on a very tight budget for her dress so there's not many options. She's also complained about the seating plan as I wanted her at the top table, which does mean she'd need to sit away from her bf (although I did say I'll sit him on the nearest table/seat to her). Then there was the fact the she was complaining that I'd booked her makeup and hair so she couldn't get ready with said bf. 
Fast forward to this weekend - she lives an hour or two away from the rest of us (me, Mum, Dad) and doesn't visit all that often. Today we we're sat watching tv and she was showing off with a video of her and her bf at dance lessons. Then she said 'I'm going to show you up on your wedding day' referring to her dancing. I ignored the comment and acted like id not heard it. So, she said it again. I ignored. So she said it for a third time. At this point I was fuming. So I did react and basically said that it was a snotty comment and that there was no need for her to say that. She got pissed off at ME (still not sure what I did wrong?) and said she and her bf like dancing and she's not not going to not dance and she wants to do 'more than just sway' (this was another dig at me because I don't dance and will just be doing the couple shuffle during first dance).  
In the end she stormed off and left without trying on a couple of bridemaid dresses I'd bought. My mum and Dad spoke to her and basically didn't seem all that bothered by what she's said - fair enough, I don't expect them to get involved. But my mum did say that my sister said she didn't even want to be my bridesmaid and never has?! This was the first I've heard of this. My sister told Mum that she didn't mean it in a nasty way, but she clearly meant it how it was said. She would revel in the fact that people would watch her more than me and fiancé during the first dance. She's the kind of person that likes to get one up on me (she makes comments non-wedding related all the time but I try not to rise to it usually). 
Obviously I'm really upset by the whole thing. My sister and her bf are going on holiday soon and my dad said I shouldn't speak to her about it until she gets back. This is obviously shitty for me as if she decides she doesn't want to be a bm, I'll have things to sort out and would like to know where I stand sooner rather than later. I don't know what to do because I don't have anyone else that I would want to ask to be bm and I don't really want to have none. 
Sorry for such a long post. Any advice will be appreciated, or even just a bit of support for a fellow bride to be!