Forum home
›
Hair & make-up
My first hair and make up trial pictures :-/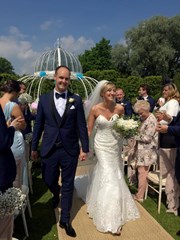 MrsG2bxx
Posts: 868
Today I had my first hair and make up trial! The girl was so lovely and really listened to everything I wanted but I think it's just me, I'm just not sure what I want or what look I am after! I thought I wanted my hair all up but I don't like my fringe so no idea what to do with it. I don't feel very feminine or sexy or beautiful but no idea how to feel this way either!
The make up is OK but I'm not used to wearing a lot of make up so I feel a bit self conscious at the moment. I did have her take some of the eye make-up off as I felt like a drag queen lol!!
Oh I just don't know what I want! I think i will have another trial and try with my hair down and slightly different make up.
These are the pics from today...