Forum home
›
Archived
›
I got married in April 2013
Menu's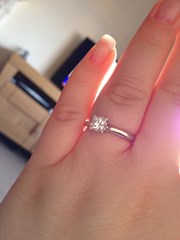 MrsStephens2b
Posts: 428
Has anyone decided on their menu's yet and/ or had their tasting?
I've just booked ours in for the 13th Feb and can't wait! My & H2B are quite big foodies!
We get the menu tasting for 4 people so will be taking my parents and have selected the following to try (we get to try 2 of each so no lunch for me that day otherwise I'll never stick to my diet!).
It all sounds lovely but trying to get a happy medium between what I would want and what would be more suited for everyone!
These are what we've opted to try
Starters - Smoked chicken and leek risotto cake with shaved fennel and parmesan or Classic smoked salmon with traditional garnish, lemon and caperberries
(I would have loved the lobster bisque but not everyone's cup of tea and I would probably end up with it down my dress so unfortunately that is a no)
Sorbert course
Mains - Pan fried fillet of beef, horseradish mash, sauteed mushrooms and bearnaise sauce or Buttered halibut fillet, artichoke puree, roasted peppers and cocotte potatoes
Desserts - Hazelnut sable, blueberry compote, ovory chocolate & orange chantilly or Coconut caramel tart with malibu icecream
Cheese & biscuits
Coffee & chocolates
Would you guys be happy with that menu?
What's everyone else gone for? (Just being nosey really LOL!)