Forum home
›
Newlyweds
Mr & Mrs Brightside - Our wedding report 27.08.2011
Well I can't believe it has been over a month since we tied the knot! It's gone past in such a flash, it was the most fabulous & unforgettable day, and I must say how bloody proud I am that it all came off after planning the whole thing myself

Anyway lets start at the beginning, it's gonna be a long one so grab yourself a cuppa



How I met Mr J
It's september 2008. I am 18, have no job, still living with my mum after moving back in with her in April after quitting my cabin crew job in London. The credit crunch had just really taken hold when I left London and I found it impossible to get a job, even my old workplace who had told me they would have me back in a flash should I change my mind couldn't afford to have me back. Bored & fed up I went to stay with my best friend one evening while her parents were away. We watched a DVD and had a glass of wine to cheer me up, and took to facebook to see who we could nosy at (we're VERY nosy!)
After sitting there for a while we both get very bored as there is nothing interesting going on, cue stupid photo time. This photo is still on facebook of myself with the tagline "Kel...kel....who am I?" I was so very proud of my statue of liberty impression.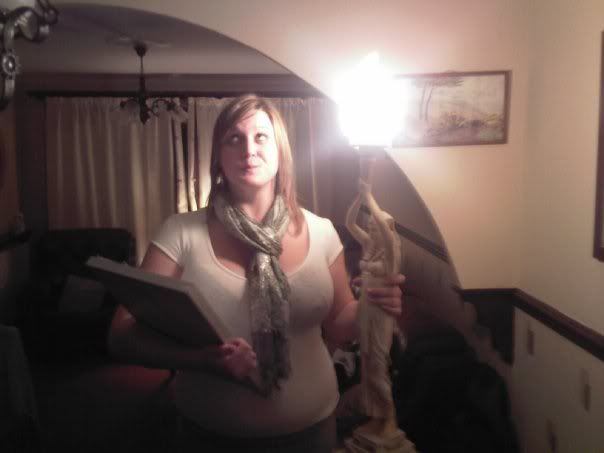 Any who, she was chatting to her brothers friend who had just got in from a night at the casino via facebook. She had changed her facebook status to something utterly unrepeatable that I had said earlier in the evening about my old airline demanding money from me for my training. Said brothers friend commented on her status claiming he thought she was a nice girl (sarcastically obviously) and I asked her to click on his profile. "Oooh he's very nice" I said checking him out on his profile picture. She filled me in on how her brother knew him. He was 24 and had just come out of a turbulent school first love relationship after 8 years. Her brother and him had gone to junior school together until his mum had remarried and moved to a town 15 mins away when they were 8, hadn't spoken to eachother in years and found one another via facebook a month earlier. Both then broke up with their partners so had been keeping eachother company down the pub drowning their sorrows.
So my best friend obviously went and told him I though he was hot...I very nearly died on the spot. They had organised a reunion night out for some of their school friends as they hadn't seen them in years a few weeks later. He asked if I needed my eyes testing and after her showing me him and showing him me, I was to be dragged along. Little did I know that he was to become my husband!