Forum home
›
Newlyweds
my spring wedding report :-)
Hi all, yayw was a great source of ideas when I first started planning so thought would share my day with you all!
I'm not really going to say much about before the day but just lots of photos because they are clearly the best bit!

So briefly, we met online Jan 2010 and knew fairly soon that we wanted to get married! We got engaged Jan 2011 and married on 31st March 2012. I loved every moment of getting engaged and wedding plans...right up until my dress was due, then delayed and then too small! Many alterations took place and althogh I love my dress I was never happy with the back so you will not see any pictures of that I am afraid it was banned!SO the week before was beautiful, glorious sunshine every day and we were so excited. But of course on the Saturday it was cloudy and cold...never mind just a bit of a shame as meant we didn't get as many photos as I would have liked. I would recommend others persist and not worry about being coming out in the cold. Get the photos you want! You will only reget it otherwise and there is nothing worse!
So lets get started! Here is Tim getting ready putting on the watch I bought him as a a pressie. It was a total surprise and when I spoke to him in the morning he really did have no clue which was fab. As you can see from his face he was happy!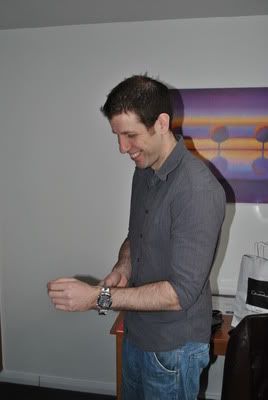 Here is him and his best men and usher before the service..
And then me nearly ready to go...
I started putting on my dress with over an hour to go but it was still a rushfor bridesmaids to go in car on time as it was doing 3 trips...anyway I ended up being late

because of this I practically ran up the church path!