Forum home
›
Newlyweds
Marriage Blessing - how individual and personal can you make it? Your experiences please - either...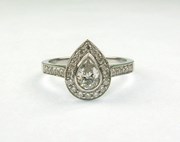 thirdthing
Posts: 582
We are going to meet the vicar this afternoon to discuss thoughts and arrangements for our church blessing - but as neither of us have ever attended a blessing we are a little bit lost as to how individual it can be! We were just going to have a blessing with the two of us but now, due to lots of reasons I won't bore you with, it looks like it could become quite a 'do' with 100 people there (who cannot attend our very small reg office wedding)
That is fine, but I don't want it to become a 'second wedding' or The Real Wedding .... our real wedding is the quiet register office.
I would love to hear from anyone who has had their marriage blessed and what they 'did', but also thoughts from guests at blessings - did it seem like a wedding, did the choice of music work in a blessing, did you have orders of service etc???
thanks in advance