Forum home
›
Newlyweds
Mrs Roberts at last! *PICS!*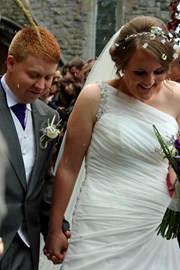 Mrs Roberts
Posts: 435
After 9 and a half years together and 18 months of planning, I am finally Mrs Roberts



We had the most amazing day - somehow everything went as planned, timings were fab and I wouldn't have changed a single thing. Here are a few pics that our guests took - if you fancy a nosey, our photographers blog can be found here with an overload of pics!!
http://www.tonyfanningphotography.co.uk/blog/2012/07/16/the-outbuildings-wedding-photographer-gemma-and-llews-anglesey-wedding/
My dress was Mona by Maggie Sottero and I absolutely LOVED wearing it. I didn't want to take it off - it was so comfy and amazing for dancing it. I could actually cry I want to put it back on so much!!
Mrs Roberts (!) xxx