Forum home
›
Newlyweds
August 23rd, our little wedding filled with love, laughter & sunshine.
bellington
Posts: 1,662
We have been together for three years now, and we got married last month. It was such a lovely day. The sun was shining, and everyone was happy, relaxed and getting on with each other. We both felt blessed when we got back together, that we had been given another chance in love, in life, together again.
I will not go on about the early years of us together, as that is in the past, all done and dusted. We have been together since 1998 though, except for 2007-2009 when i was by myself, with the four children.
There were two main worries when we were planning the wedding what i had to get my head around. One was our darling son who is 22 years old. He has severe Autism, and how was he going to cope with the day. He doesn't like strange buildings, different sounds, and can get very upset. He has no speech, but makes noises. So you have to work out what is upsetting him, why, and how to change it.
So once we knew where we were getting married, and where the reception venue was, we let the carer's know, and they took him to the places a couple of times so he could see and get the feel of the place. The register office, he was not keen on at all. He got a bit upset after about 15 minutes, so the carer's took him out. At the hotel after, he was absolutely brilliant. I was so proud of him, it made me shed a couple of tears. He had room to wander about, and there were chairs near the bar he could go and chill out in. He made my day, as well as making everyone else say how good he was. Everyone loves him. He could also go outside too, he didn't even bother with the chickens, as they are loose, i thought he might chase them.
Second worry was as my darling dad passed away in 2007, how was i going to get married without him there. I am getting used to my darling dad not being here anymore, i can't say i have come to terms with him not being here, and not seeing him nearly everyday. At one point it was so bad, that after he passed away, all i wanted to do was be with him. With help from the doctors etc, and medication i don't think like that anymore.
Who would give me away though. I wasn't too botherd about walking into the room myself, i only had tro walk about 18 feet to be with Tom. I asked my lovely mum, but she said she didnt feel right doing it, as it would of been my dads job to do. I can understand that, so mum was a witness. So i asked my eldest child. My darling daughter Rebecca, who is 29yrs old. She said she was only too willing to give me away.

So that was sorted. Rebecca's two sons were going to hold the ring box's, and my two other darling daughters, Sophie who is 20, and Bethanie, the youngest at 19, were our bridesmaids. Bethanie's fiance', Andy was to be the other witness.
My mums partner was there on the day too. He has been so good for my mum, and they make a lovely couple. Mum was realy happy when we said he was welcome to come too. My mum wore some beautiful jewellery that my dear dad had brought her before he got so ill, so he was with my mum too on the day.
I had his photo in a bouquet brooch, so he was with me too.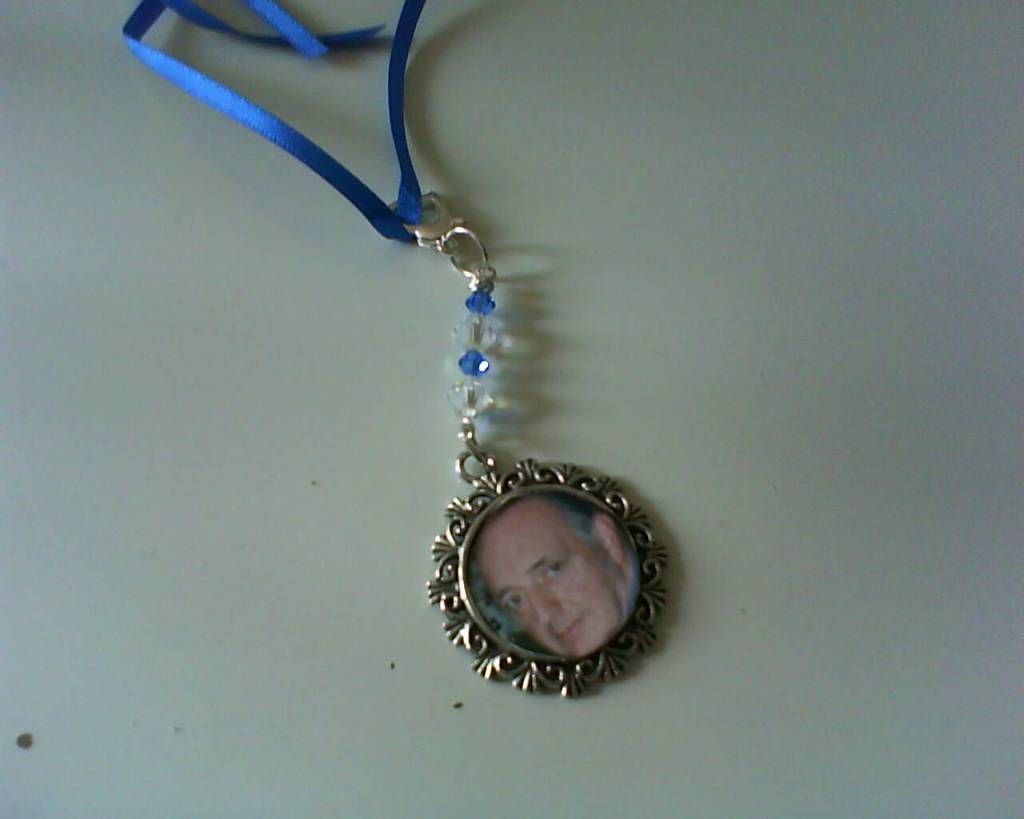 Now that was sorted, it was time to pick where to get married at. We both decided on the town register office. It isn't too bad inside, and with us only having 26 guests, we could have the smaller room, so that saved money too. But i wanted to have the reception in a hotel where we could spend the night, after our lovely day. It