Forum home
›
Newlyweds
15th September- Our Wedding
Mrs M 2012
Posts: 408
So we've finally got married. 15th September 2012. It was really the most beautiful day of the year (of my life).
Starting with a bit of history- me and hubby met in 2009 when i was working at a Muse gig behind the bar. At the time i was single and was enjoying every moment of it, i wasnt looking for love until i served my partner. A mutual friend was at the gig with him and introduced us, after that hubby kept coming up to me to get served and there was a lot of banter going on between us. After i finished my shift i went and met up with them in a pub and then we went into another.
As we were walking between the pubs there was a lot of flirting going on between us and next thing i new he picked me up in a firemans lift and atempted to chuck me into a big bin. Unfortunately as he had a couple of drinks he ended up tripping up and fallin over, ending with us in a heap of laughter on the floor.
I can honestly say i've never looked back since. That might be because ive still got concussion

We started dating and got on really well, after a year we moved in together, which was really strange for me as i've never moved out of home before. This put a bit of a strain on our relationship but as soon as we worked out whoes doing what and split it 50/50 it turned out to be one of the best decisions of my life. also a couple of months later we brought a dog together and were the perfect little family.
A year later he took me out for a romantic walk and picnic up the moors. He was being a bit shifty running around hiding from me and taking out dog with him. He came back and looked a bit upset so i asked him if he wanted to leave, which he did. Driving back, he said lets stop off at a local dog walking field and go for anopther walk. We started walking around and i heard something behind me so i turned around to see hubby on one knee with a ring box in his hand, saying 'Will you marry me'. My first words were 'Are you being serious?'. Which he was and we got engaged

Planning our wedding was pretty easy in some respects, once we decided where we were getting married and having the reception everything else seemed to fall into place.
The day was perfect we had the best weather of the year by far. Everything i planned went so smoothly and without a hitch. I've only had a few pictures from friends come through at the moment so i've just included a couple from our day.
Just after the church ceromony
The confetti shot of us
Waiting in the car to go off for photos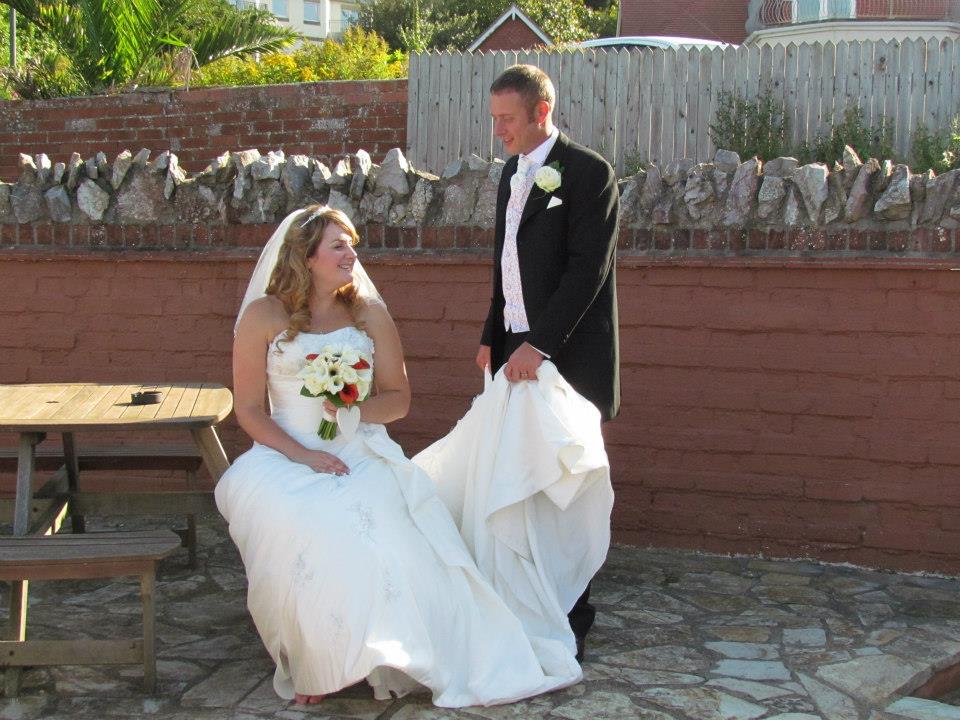 Hubby and i having a five minute break from photos etc. I trained him well, he was holding my train for most of the day as i was walking around,