Forum home
›
Newlyweds
Our Beautiful Day, and how we got there!
Sunday evening, hubbys out. I have a glass of wine and a pack of giant buttons to keep me going so decided to finally start a wedding report!
In the beginning...
Liam and I had first met back in 2003 when I used to knock around with his younger brother. I was 14 and he was 17 at the time but I didn't fancy him at all haha!
A couple of years went by and I bumped in to him in a club on Boxing Day 2006, I remember seeing him and thinking "wow, he's blossomed!" and so began my pursuit!
I saw him again in the same club in February 2007 where we had our first kiss, how romantic! (If you saw the state of the club you would think otherwise!!) We exchanged a few texts from there and I bumped into him again on a night out for St Patrick's Day (17th March) where he asked me if I would like to go on a proper date, to which I said yes but nearly a month went by and we never arranged anything!
We went on our first date on the 12th April 2007 (he finally rung me on my birthday and asked if he could take me out the next day!). At the time I was a student nurse and Liam was an apprentice gas engineer so neither of us had any money! He picked me up, took me to the local shop for a loaf of bread and then on to the local bird sanctuary to feed the ducks!!! It sounds really lame but we had a laugh. The bread didn't last long so we spent most of the time talking and getting to know one another.
Months went by and we ended up spending nearly every day together. One of my friends was seeing one of Liam's friends at the time so we went out on a few double dates! We went to the races with them in June that year and ended up having a brilliant day. When I got home that night Liam sent me a text telling me he loved me! (Again very romantic I know but he is quite shy!) I knew I felt the same way and that was it we were a very happy couple!
This is the earliest picture I can find of the two of us, looking very young!!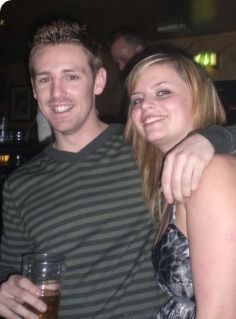 compared to now!!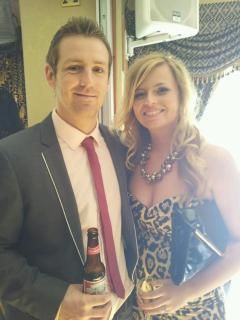 ..