Forum home
›
Planning
Flowers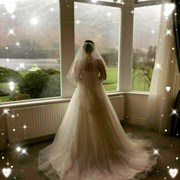 Slopeydopes
Posts: 182

Hey everyone,
I have got a little bit confused with flowers as I'm not particularly good at this sort of thing. I have booked with a florist who does artificial flowers and had decided on a style I liked.
I then saw a different bouquet that she did which I think is stunning
My question is basically that I am getting married in December so think the sunflowers might be a bit out of season. My colour theme is burgundy and navy and I'm getting really confused with what will look good. The same with the buttonholes. The suits are like below but only the groom will have the waistcoat like this and the others will have blue ones. I'm worried a burgundy buttonhole will look a bit odd with too much burgundy but that a white will be strange when there's no white in the bouquet!
Sorry for the all the questions and musings! Just a bit puzzled by it all
Thank you