Forum home
›
Receptions
Are my favours a stupid idea?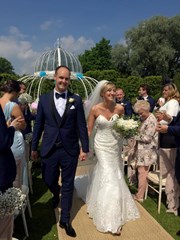 MrsG2bxx
Posts: 868
Hi ladies,
What are your honest opinions on the idea that I have for my favours...
I am a big tea lover and all things tea and cake related I just adore, so I wanted an English tea party theme for my wedding breakfast, all vintage looking and lovely, however, its proving silly money when trying to accommodate such styles and some things we just cant justify.
So our reception no longer has a 'theme' as such, it will be pretty plain but I still really wanted to incorporate 'tea party' somehow...this is a really popular choice right now I know.....
The wedding favours I had my heart set on were little fancy tea spoons which I would have engraved with the initials and date of the wedding, this is rather expensive but not totally unachievable, however, will it just be a huge waste and will people actually be bothered about having them? I know some will and some wont, but if I do pay out to have them will I just have loads handed back to me the next day where people just left them on the table and then I'll feel like an idiot! I mean, honestly what does someone want with an engraved spoon anyway?
....now I am talking myself out of it aswell......or what do you think to just give the ladies the little teaspoon and give the men something else?
help!!! lol!!