Forum home
›
Swap and Sale
For Sale - Shabby Chic Park Wedding Items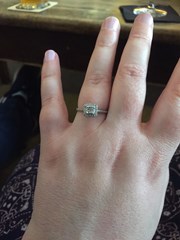 MrsLMT
Posts: 3,830
Hello my lovely ladies!!
I still have loads to sort out but here are a few things I have for sale so far. The trees and card box will need to be collected as they are far to big and heavy to send. I live in Ebbw Vale. I do have more to sell and will add other items over the next few days. 
I Spy Cards x 14 £2 including postage
Song request cards x 50. These are printed on ivory 300gsm card. £5 including postage
Sweet bags. There is approximately 130 bags. £6.50 including postage
Lockable card box with bunting £25. Comes with 2 keys. 
Four bay trees with battery operated fairy lights. I absolutely love these trees and I really wish I had the room to keep them. They looked so pretty all lit up. Open to sensible offers.