Forum home
›
Swap and Sale
Selling lots of wedding accessories/shoes/wedding ring
Nadine1301
Posts: 21

Hi dear lovely brides, 
I ended up buying a lot of accessories for our wedding that I didn't end up wearing due to last minute outfit changes (or that ended up not fitting properly) and would love to sell these on to someone who will cherish them
There are some proper gems in there. 
1. Freya Rose bridal heels (size UK 3.5, EUR 36), £100
These are brand new "Tahiti Lace" heels from Freya Rose which I have tried on multiple times inside our flat but never wore. The protective sticker is still completely intact underneath. These are absolutely stunning, beautiful lace shoes with a perlmutt/seashell sort of heel. I bought these half price  in the sale (RRP around £300) and had to go for a size that's unfortunately ever so slightly too small for me, hoping that with weight loss I would fit into them, but unfortunately I didn't. 
They come in the original box. As a little side note, I noticed that when I took them home they have a tiny little red dot on the inside of the strap on one shoe, which looks a little bit like a marker pen. I didn't notice this when I bought them and it's completely unnoticeable when you're wearing them too. 
2. Boho Bridal Anklets, £40 (RRP £70)
These beauties I was going to wear for the evening part of our wedding, once I had changed into a second and slightly shorter dress for dancing, and I completely forgot to put these on
Again, they are stunning, have only been tried on, handmade and still in original box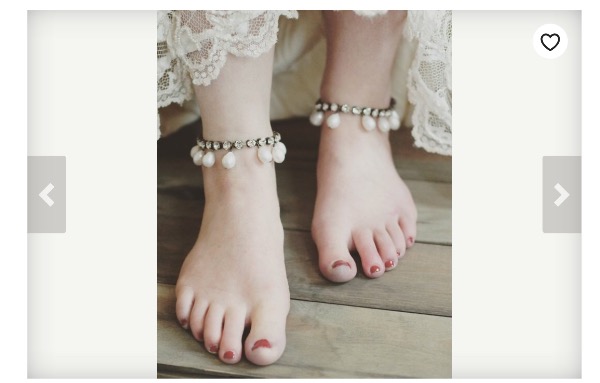 3. Wedding Band, Vintage from the 1930s, £120
This little beauty was supposed to be my wedding ring, but I found another one fairly last minute who would go a bit better with my engagement ring. This is a very pretty Art Deco wedding band which features a lovely engraved or embossed floral type pattern. The ring is in very good condition (I personally never wore it, but it's vintage) with the pattern still easily discernible. From the side view the ring has a slightly raised profile. This genuine vintage band ring is crafted in solid 9 carat yellow gold and is stamped as such. Looks beautiful teamed with other rings . The size is O or US 7.5 
I will be adding more accessories shortly
If you like any of these items, please message me. 
Thanks a lot,
Nadine x