Forum home
›
Wedding fashion
Hair Accessories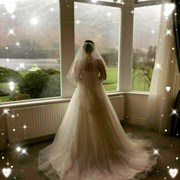 Slopeydopes
Posts: 201

Hi Everyone, 
I've been looking for things to put in my hair and struggling to find things that aren't really expensive or things I would feel comfortable wearing. I fell in love with a hair vine and had decided that's what I wanted and went to Debenham's but they didn't have that style. 
I tried on one that I thought would be too big online but really liked it. My mum really likes this hair vine
I really liked this comb that I tried. I liked the vine but am not sure if I just didn't have it in properly. I'm not really one for accessorising and doing things with my hair so was getting a bit confused.
Hair comb
I'm planning on having my hair in some sort of up-do like that (but actually done properly!)
I just wondered what everyone though and if anyone had recommendations for shops that sell them not too expensive!
Thank you