Forum home
›
Wedding fashion
What kind of veil will suit my dress?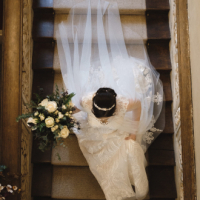 Nottinghamshirewife
Posts: 751

I know this has already been asked 1000 times already, but I'm really struggling to find a veil to suit my dress. When I chose it, I tried a few different veils on, but the shop didn't have a massive selection and nothing seemed quite right. Fast forward a few months and I'm still no closer to finding a style that I think will suit the dress.
It has quite unusual lace so that rules out any 'standard' floral type lace, and it doesn't have a train so I think longer veils like cathedral length will look silly - correct me if I'm wrong! It doesnt have any beading (which I love) and just a few delicate sequins so that it twinkles. So, I think anything too glitzy, with lots of beading or gems, will look odd. Any suggestions will be greatly appreciated! P.S. my budget it very small and I'm looking to spend an absolute maximum of £60, which also greatly limits my options. 
Here is the dress for reference: