Forum home
›
Wedding fashion
Can someone PLEASE calm me down? Can a steam clean get foundation out?! 😭😭😭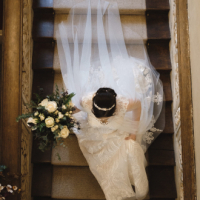 Nottinghamshirewife
Posts: 751

I bought my wedding dress last November from a lovely bridal shop. It was a sample sale dress as we were on a pretty tight budget.
Anyways, I bought the dress and left it with the shop until I was ready for my dress fitting today (with an independent seamstress recommended by the dress shop). Please noone tell me that I shouldn't have left it with the shop! I'm already dressed enough 😤😤
When the dress bag was opened we all noticed a lot of foundation marks around the neckline, on the lace and on the inside lining. There was also some sort of GLUE on the outside netting layer!! 😱😰😭
Now when I originally tried the dress on, I hadn't noticed any marks and tried it on bare faced. I did try it on a second time but it was after a long day when most of my makeup had worn off anyways. When the dress was packed away after that time, again I couldn't see anything wrong. Now the owner of the shop assured me that it has been safely stored since I bought it.
I phoned her up and both her and the seamstress said that it will come out after a steam clean, which the shop owner is going to do. Is this right, that it will come out without a trace or should I be looking for another dress with only 2.5 months to go?! 🙈😵🔫
I honestly don't want another dress so can someone please reassure me that it won't be an issue and can be fixed!!! And breathe, sorry for such a long post! I'm so worried and needed to get this off my chest 😭😭