Forum home
›
Wedding fashion
How would you accessorise this dress?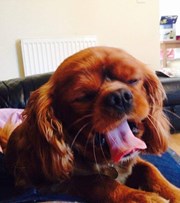 CavalierBride
Posts: 353

So I bought my dress at the weekend, it makes me very happy and excited when I think about wearing it. 
My wedding is in December this year, so I have plenty of time to worry about the extra 'bits', but I'd like to know what other people think would work and get some ideas. 
Would you go with a veil? What type? Would a fur wrap or other kind of jacket work? I think I'll need something at least for after the ceremony (I'm staying at the venue so could brave the 20 steps to the ceremony room with nothing but afterwards might need something warm if we do make it outside for photos). I'm quite up for something different like a colour, a snuggly wool shawl or cardigan, or a big coat - I just don't know what or where to look! 
Would you wear a necklace or leave the neckline bare? I might have some of the deep v filled so it's not quite so booby (I have a big bust!). 
As I said the wedding is in December, in a barn that is part of an old pub so it's not terribly formal.
The dress is this one ...,