Forum home
›
Weight loss for your wedding
Losing weight with a made to measure dress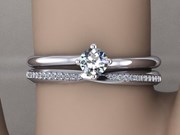 Kimberley23
Posts: 167
Hi all
I put down my deposit for a beautiful Naomi Neoh made to measure dress back in October last year. Since then I've lost just over 2 stone and would like to lose another 2 before my wedding in September.
The problem is, I have my calico fitting (where they make the dress to your measurements) on 2nd April which is the latest date they could do. They've said that it's best if I don't change shape from April - September at all!
Has anyone got any experience with this? I really do want to lose some more, and I don't understand why I wouldn't be able to - surely that's what the other two/three fittings are for?
Any ideas? It feels so silly to cut off my weight loss now when I have another 6 months to go!