Forum home
›
Weight loss for your wedding
Low confidence after weight loss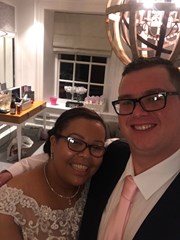 MrsHowgate
Posts: 1,434

I'm not due to get married until next october but I am stressing myself out over my weight. 
I went shopping today to try on some strapless bras to see what shape etc I liked and it hit me that I'm too fat for any of them and my boobs aren't made for strapless. The only time I've ever felt confident in lingerie is when I've worn a basque but I have GG/H cup boobs and it's hard to find them.
Over the past 6 years I've lost 10 stone in weight and have saggy skin and boobs as a result which unfortunately I can't change or afford surgery. I still want to lose another 3 stone before Christmas when my dress arrives but at the moment my head isn't in it. I've gone from a size 28 to a 14/16 on slimming world and doing my own thing and my wedding dress is a 16 (one size smaller than the sample I tried but my measurements are identical to the size 16).
My fiancé has been great, he tells me he loves me how I am. Adores my body and couldn't care less how I looked. He has only known me the weight I am now not when I was huge.
I don't want to disappoint him on our wedding day by looking horrible in granny pants etc. My confidence is at rock bottom and I don't know what to do.
I just want to cry but I know that won't solve anything