Forum home
›
You & Your Baby
Hypnobirthing Experiences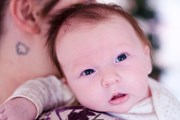 picklepick
Posts: 1,141
hi ladies
A friend has recommended hypnobirthing to me and I've been looking into it. I find it fascinating and hubby and I are seriously considering booking some classes.
Just wondering if anyone has been to classes and is ready for birth or has already given birth and has a birth story to share?
For anyone interested this is the website for the Hypnobirthing Institute.
http://www.hypnobirthing.com/default.htm
I've watched some amazing videos online. It looks so peaceful.