Forum home
›
Your planning threads
Our Vintage 1920s/1940s Literally Inspired Wedding - 30.03.13
PickyBride
Posts: 207
The Background Bit
I was in my third year of university in York, I'd just got back from an amazing couple of weeks in America with friends. The trip had been rather last minute and mostly a result of wanting to get away from the bad boys I kept falling for. So after 14 days, 3 hostels, numerous cocktails, one nearly-missed flight and one emergency wiring of money via Western Union (thanks Dad) I was home and thoroughly cheered up. It was a Monday night, Monday the 21st of April to be precise, and I was getting ready to go out with Robyn for her birthday. I'd bought a fabulous pair of magenta boots that day and was feeling fab.
Skip forward to a couple of hours later and we were in Revolution. I spotted my housemate Dan talking to a really cute guy so decided I should probably catch-up with Dan at that very moment. The cute guy turned away so I zipped over to find out all about him. Dan informed me that it was his ex-boyfriend — devestated! Before I know it, Dan's disappeared and cute guy turns to find me instead of his ex. Cue awkward conversation where I explain that I'm a friend of Dan, his ex. Cue even more confusion as cute guy tries desperately to explain that he isn't in fact gay! So a few giggles and introductions later, Jack and I are getting along really well. I go back to the girls and share the goss. When we leave the bar, I try my very best to saunter past him and tap him on the shoulder, and in the sexiest voice I can muster, tell him I'll see him later — Jack completely fails to be impressed by my femme fatale impression and I sulk off!
The story doesn't end there though … later that night we bump into each other again and get chatting. When the lights go up at 3am, we both look disappointed. So unlike the good girl I'm meant to to, I invite him back to mine for a drink with Robyn and I. After putting the drunk birthday girl to bed, we stay up talking about everything until 7am — despite having work at 9! I was totally smitten. So much so, when we finally stopped talking and went to bed, I took him to my housemates room because hers was always lovely (thanks Dani!) and mine was such a mess! Funnily enough, he never did notice that all my pictures were of Dani and her boyfriend!
So that's how we met… on a Monday. He stayed over again on Tuesday. And Wednesday. And every night since. By the Sunday, I was in Hull, meeting his entire family.
 Me and Robyn the night I met Jack! Clearly I was having fun!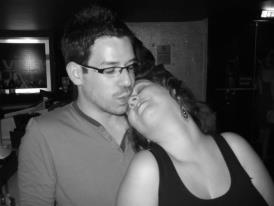 And it didn't take long for us to be pretty inseperable!