Forum home
›
Your planning threads
my-planning-thread--bit-of-diy-in-here-too
sara louise
Posts: 157
hi thought i would join all the other people making threads and start my own

hope you like my ideas there will be more added over the next 8 months so here goes..
I am a young bride of 23 will be 24 when we tie the knot..
how we met
We met in 2010 through a friend of mine..her partner works with my h2b, we got talking on her wall on facebook, he was so forward and outspoken of what he thought of me. Me being me was being reserved and shy and with a little boy i knew i had to take things slowly..over the next few weeks we exchanged god knows how many messages, he was eager to meet me but like i said i had a little boy so had to take it slow. after speaking for a few weeks we arranged to meet.. i was soo nervous, i arranged for my son to be looked after by my friend who is also my sons godmother, we met at a local pub where we had a meal and a few drinks. He told me he had shown his mum my pictures and that she had said 'she's too good for you' LOL. We hit it off fro the day we started talking over the internet but we got on so much better face to face, he made me laugh, made me feel comfortable, he was a real charmer and knew just what to say. We decided to make it official and get together.. by this time we had been dating for like 2-3 months, my son who was 1 and a half at this point was staying at my friends house so my h2b came over and we watched a few films and had a laugh and a few drinks, it got late so he stayed over..few hours later i received a call that my son had been sick so i went and collected him but as it was early hours of the morning he wouldnt let me go on my own thats how him and my son met.. my son took to him straight away and he was great with him.
a few months later he was practically living at mine but without realising his stuff seemed to start to mount up at my house so we had a chat that evening and we decided he should move in so he did. a few weeks later we discovered we was pregnant we couldnt have been more happier although we hadnt spoke about babies as we were happy as we were and not thought of it, but we was shocked but majorly happy our little bundle of joy was born in march 2011 little boy

on christmas day 2011 we woke up early and came down we decided we would exchange gifts before the boys woke up that way we could concentrate on them opening all theres. i started opening my gifts which i loved (he had spoilt me) i then came across a long rectangular box which i assumed was a bracelet..we both sat infront of the fire as i opened it all excited and inside there was the most beautiful ring staring right at me..he took the ring and knelt up on one knee and proposed.. i couldnt help it tears was streaming down my face, i was that shocked it took me a while to answer him (looking back his face was a picture, asif in anticipation wondering what my answer would be) i finally got my words out and obviously said YES!!

our families was all excited for us and couldnt wait for us to set a date.
Wasnt until october 2012 we set the date for 12/04/2014, the day we set the date we had the church booked, the venue, the photographer and dj and the cake LOL! from being little i have always wanted to get married at my local church, then in 2006 my brother was killed in a hit and run and his ashes were buried in my local church with my grandma so since then i have wanted to get married there even more so i feel they are there with us to share it. (some see it as morbid but i see it as comfort)
in december 2012 i couldnt wait to go dress shopping even if it was to just try them on.. i found my dress (pictured below) and just wanted to order it. the lady at the shop told me to wait till the new range came out to see what i thought of them. so i arranged to go back in may this year which i did but not alot of the dresses stood out and my eyes kept going to the dress i had picked in the december.. i tried a few on but they wasnt matching up.. so i had a good walk round the bridal shop and picked my tiara and ordered my gown and paid half (well my mother did) lol..
Wedding Dress.
 iv ordered this in ivory, trying to find a picture of all angles on google is proving difficult so i have got one in another colour to show you all the back part of it..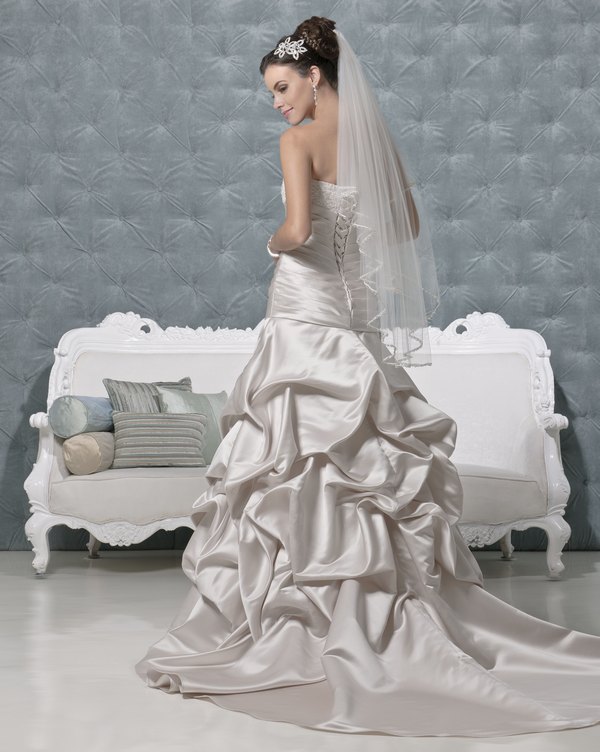 this was the 1st dress i picked off the rail but the last to try on and soon as i put it on me and my sister (my MOH) both cried its fit like a glove around my body, made me look taller as im only 5ft, its not too puffy at the bottom and is lightweight. I kept making appointments at the bridal sho just so i could have it on again i fell in love. My mum paid half towards it as a wedding gift. Dress was expensive and will be the most expensive thing i will buy for the wedding but its soo worth every penny! I was luckt to get this dress as it was being discontinued and the shop only had the oyster colour one available (2nd pic) but the lady was lovely and rang the designer and asked if she had enough material to make me another one but in ivory and luckily enough she said yes

i cannot wait to try it on again when its made which should be late oct/nov.