Forum home
›
Your planning threads
Our Country House Wedding....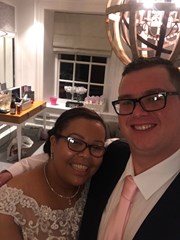 MrsHowgate
Posts: 1,435

I thought I would start a planning blog after reading so many on here and being inspired by so many ideas.
HOW WE MET & THE PROPOSAL

Me and H2B have been friends for the last few years and only became 'official' 5 months ago after a lot of talking and getting to know more about each other. He knew all about my previous abusive marriage and the crap relationship that followed after that and he was totally ok with the fact that technically I am still married (divorce process has been started) and have an 11 and 7 year old.
He unofficially proposed to me back in November but I told him to come back when he had a ring lol.
We was visiting some venues on Saturday to get an idea of was on offer, even though I had decided what venue I wanted already. My best friend who is also my MOH had arranged all the visits and came with us along with my daughter. She deliberately made sure we visited my dream venue last. Little did I know that they was in on the secret proposal that was about to happen.
We had just finished viewing our dream venue, which was covered in snow and looked amazing and my youngest kept going on about going upstairs with her as there was something she had to show me and kept mentioning that Andrew (my H2B) had a surprise for me.
Me and my daughter started to go up the stairs and all of a sudden I heard Andrew tell me to stop and turn around and there he was on one knee. I almost fell down the stairs at this point as my foot slipped lol. He asked me to marry him and then gave me the most amazing ring! Me, Andrew and my daughter started crying and hugging and my best friend had caught it all on camera and was crying too. It may not be romantic to some people but to me it was amazing.
Here is my ring: 
So now I am an engaged woman. Looking forward to marrying my soul mate. We've set the date and booked our dream venue - Sunday 28th October 2018 at Barnett Hill Country House Hotel in Guildford, Surrey......