Forum home
›
Your planning threads
Our travel themed barn wedding!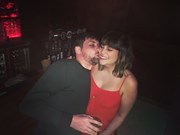 Charleah
Posts: 248

Hello everyone! 
I've been a little lurking monster, snooping on everyone's wedding threads, eagerly waiting to start my own! I keep getting butterflies imaging everyone's exciting big day and then being like eeeek I can't wait for mine! And it's not long now - roughly 11 months! I'm a bit of a no-nonsense-just-get-on-with-things-hate-waiting-around kind of gal so as soon as that ring was on my finger I was on itttt in terms of setting a date. Here I am 6 weeks later sending out save the dates and beginning this blogging journey! Sorry if my writing isnt top notch, I genuinely have no idea what I'm doing 

So, you lovely people, if you're reading, you're probably thinking what's this chick's story? 
WELL
(Sorry I'm a bit dramatic)
in 2013, I had just returned to England from a year long adventure in China teaching English as a second language! I had literally been back for just over a week and I was so depressed about getting back to normality that I'd planned to go back to China to live there permanently! Anyhow, an old friend got in touch with me to ask if I'd like to go to his mates birthday party in town. I wasn't really fussed about going and I actually said no but he talked me into it. (I sound so boring). So I went along and it was alright but not brill, so I nagged him to go on to a club. At some point during drinking in excess and lots of dancing, I got slightly emotional and we ended up arguing and he walked off and left me (yeah he's no longer my friend). So I, feeling ever so sorry for myself, went and plonked myself on one of the sofas. Just as I'm about to head out for a taxi home, some guy plonks himself next to me. You look sad. He says with a half grin, half sympathetic look on his face. Well yes, I am sad, I say, and proceed to illustrate the events of the evening. Me and a couple of friends are on our way to another club if you want to come? There are girls too, he says reassuringly, in the hopes I don't think he has plans to kidnap me. 
Then I proceeded to actually ENJOY the rest of my night and ended up..er...staying the night at his flat. All we did was talk and talk through the night! I got a very worried phone call from my mum the next day cause she'd not heard me come in (oops) and so Mat suggested we go and buy her some flowers to apologise. What a soppy get I remember thinking, but at the same time it was very cute. In the following days after my phone was constantly pinging with messages from him, wanting to meet again. I knew I'd found the right guy, even if he was a little too eager 
So, that's it really, it's not a very romantic story, but it's our story. The story of how Charleah met Mat.