Forum home
›
Your planning threads
Winter Wonderful - Dec 2019 (the higgledy piggledy thread edited!)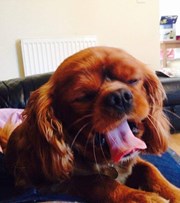 CavalierBride
Posts: 353

Hello everyone. Well I've been reading threads on here for a little while, although only got officially engaged this weekend, and although it's very early days and we've no date or venue or anything yet, I thought I'd like to start a thread here because I've so enjoyed reading others, and because I like the idea of putting the whole process down in one place that I can look back on later. 
I hope thats ok, other threads seem to start with at least a date and venue if not a whole theme in mind, I had no idea what to even call this thread for starters, maybe I can edit it later when I have some details - I'm not sure if the forum lets you.
Anyway, I'll do some introductions.
About us:
Me: E, aged 39, teacher, dog-lover, auntie many times over. This will be my first wedding but not my first engagement, more later.
Him: R, aged 41, does something in IT that makes my eyes glaze over whenever he tries to explain, not a dog person when we met, now a convert, owns more coats than anyone I've ever known but only ever wears one of them (scruffy and knackered though it is). 
Most importantly: Fred, my 11 year old ginger cavalier King Charles Spaniel. R was as I said not a dog person when we met, I said 'oh what a shame because Fred is a dealbreaker', R swiftly became a dog person and he and Fred are now fairly devoted to each other, which is lucky because I meant what I said about it being a dealbreaker. Fred is an absolute diva and is currently licking my feet/head butting me in a most insistent fashion whilst doing what we call 'the sneeze of disapproval' because I'm typing this instead of fussing him.