Forum home
›
Your wedding reports
Vintage Rose and Pearls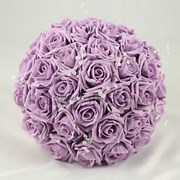 Lou85
Posts: 1,824

Hello lovely ladies!
I have been married for almost six weeks now, and after a very busy few weeks I am now firmly back in the real world and ready to start my report.
Our wedding day was utterly perfect, the best day of my entire life. It really is so wonderful, and there are no words to describe how happy we are. It is totally worth the planning, the time, the money and the occasional stresses and I would marry him again tomorrow.
I hope that this report will tell the story of our day in the best possible way. I really enjoyed writing our thread and I hope you enjoy my report. 
But first, a picture. One of my favourites and the one we put on our thank you cards. If you ever need a reason to justify a cathedral-length veil, then here it is