Forum home
›
Your wedding reports
Winter on the Waterfront - The Report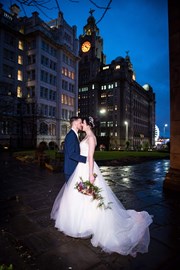 MrsJ2017
Posts: 3,017
Well, I am officially out of patience and have decided to make a start on my report. I don't have the professional photos yet, and were not expecting them until early February, but I have a lot to say about the week leading up to the wedding, and I can go to about 11am on the wedding day without professional pictures.
Generally I don't like it when a report starts and then has to stop for a few weeks, but what can I say I'm a hypocrite, and I have a bad memory, so I'm telling myself that if I don't do it now Ill forget the details!
I'm going to tell the good and the bad as it happened, no sugar coating allowed here.
Brief Introduction
The Bride & Groom
Aimee & Paul
How We Met
We met almost 10 years ago outside a high security prison. My mum worked there, and Paul had been her partner for 5 months at this point. I had been very happily single for about 6 months and was in no way interested in changing that. Paul had been in a relationship for 4 years and was very unhappy.
We met very briefly, and at the risk of sounding cliché, it was like the universe aligned and we were exactly were we were supposed to be at that moment.
He left his relationship about a week later, and not long afterwards he asked me out, and of course, I accepted.

The Proposal
Pauls proposal was a real anti climax. It took him 6 years and all he could manage was a semi crouch in the dining room of our home on a normal night, with a gruff "marry me". Then he went and posted about it on facebook while I finished my tea alone. I love romantic gestures, especially proposal stories, so I was pretty disappointed with his complete lack of effort.

Paul originally proposed with a blue topaz ring (my birthstone and the rock Id always told him I wanted), but it turned out to be a very awkward shape to go with a wedding band, so he bought me a new, more classic one.


The Kids
We have 3 children, Charlie, Hazel and Harvey. Harvey was born after the proposal, I got a positive pregnancy test just a few days after getting engaged, which put wedding plans on the backburner slightly!
Wedding Venues
We really wanted to get married abroad. When I was younger I wasn't the type to dream about my wedding day, but one day I browsing my mums far away shores brochure when I saw that destination weddings were a thing. Since then my heart was firmly set on making my vows on a tropical beach with a low backed dress, and just my nearest and dearest watching, followed by a beach BBQ and party.
This wasn't what we got at all. I don't have the organisational capacity to plan anything so far away myself, so we looked into travel agents and put feelers out among potential guests to see who would come.
Our problem was that we had 3 kids. Only certain hotels do the weddings, and of those certain hotels only 2 in  the whole of the Caribbean slept families of 5, and the quote we received for the room and flights was £31000.
We thought about saying one of our kids was sleeping in a room with a guest, but one by one it turned out that the guests couldn't come.
So we decided on an English wedding.