Forum home
›
Your wedding reports
Shabby Chic Park - The Report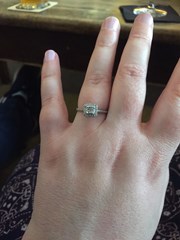 MrsLMT
Posts: 3,830
The time has come for me to finally write my report. I joined this forum 2 years ago and I can not believe I am now a wife. It's a very surreal feeling. 
I remember promising blood, sweat and tears during my planning and while we didn't have the blood in the final week there was plenty of sweat and tears. 
So here goes!
Bride and Groom: Lynsey and Ben
How we met: Tinder. We both swiped right. Lol. I am forever thankful for friends who persuaded me to join. We started dating in May 2014.
Proposal: The boy did good! He proposed on the 28th March 2016 at Dryffryn Gardens. Gorgeous Gothic looking house. Visions of Rochester flashing through my mind. He proposed on the balcony overlooking the main foyer. It was lovely. He had asked my Dads permission weeks before so my parents were waiting for the proposal. 
Wedding Date: Saturday 24th March 2018. We always knew we wanted a late winter or early spring wedding. We chose the date as the weather is usually lovely at the end of March, (how wrong were we for that this year). 
Venue: The Park Hotel, Pandy. near Abergavenny. We chose the venue as it was close to very disabled grandmother and had very good disabled access. I was, and still am, very shocked at the poor disabled access at wedding venues.