Forum home
›
Your wedding reports
Married In Sunny February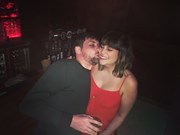 Charleah
Posts: 248

Mr & Mrs Holland

Well here we are! So many of you lovely people read through my planning journey & now it's time to reveal what went down Friday 22nd February 2019 - the most magical day of our lives. 
We are Mat & Charleah or to be formal Mathew and Charlotte. 
You can read my planning thread here!
https://forum.youandyourwedding.co.uk/discussion/comment/4856273#Comment_4856273
Firstly I shall run through the suppliers - who might I add - were all blooming fantastic. 
Venue: Rivington Hall Barn. My god. It was just wonderful. More beautiful than I ever imagined it to be. Ceremony and reception all in one place but yet both so different and unique. It really is a special place and if there are any brides out there getting married in or near the Lancashire area then please do consider Rivington. And the staff & coordinating team were just outstanding. They couldn't have done more to help and they made everything run smoothly from start to finish. Phenomenal. 
Dress: Anabel by Pronovias. This was a crepe A line fit and flare with sleeves. It has a lace back and a long train. I also wore a mantilla cathedral length veil which went with the dress perfectly because of the simplicity of it. I did have some issues with the dress (cup outlines showing due to them moving around) but that's the blooming seamstresses fault for not fitting the cups in the dress right! 
Hair & makeup: The wonderful Laura at Nala & Knot who made me look like a movie star. 
Shoes & jewelry: Etsy 
Rings: Luxe
Band: One Man Down (sister in law's band) they did a smashing job and absolutey nailed Paramore! 
Flowers: Margaret Mason. Just simply amazing -from the trees in the ceremony down to the button holes. 
Selfie mirror: Kwiksnap Events 
Photographer: Tim Emmerton. Omg. This guy is the biggest gent. We just got our photos from him at the weekend and I can't stop crying at how good they are. Some of them I didn't even realise he was there taking them! Top bloke. Highly recommend. 
Videographer: My brother & his girlfriend. So proud of them. From what they've shown me so far it looks fab. Can't wait to see the film. 
Van: Absolute bliss VW hire. The driver was such a cool guy and really helped calm my nerves pre ceremony. 
Suits: Marc Darcy from Tweed & Groom
Mens shoes: Ask the missus 
DJ: Johnny Ross Music. Kyle was superb and did exactly what we asked for which was basically turn our evening party into a top club in Ibiza. 
Pianist: Oak the piano at Warble Entertainment. This guy was boss and even when we slightly messed up the timings he just took it in his stride. 
Cake top: Iced of Garstang 
Cupcakes: The cupcake ladies of garstang
Honeymoon: STA Travel - still to be booked. 
A big ol' thank you to each & every one of you.