Forum home
›
Your wedding reports
Winter Wonderful - 22 Dec Wedding Report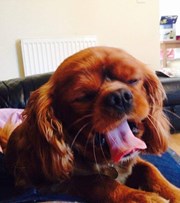 CavalierBride
Posts: 353

Hi guys, was in two minds about doing a report as not sure how many people are still reading/ interested but then I decided I'd like to have it for myself to look back in anyway. I'm already forgetting things and wanted to get it all down in one place. 
We got married last Sunday the 22nd December and it was the most amazing day. Seriously pretty much everything went without a hitch, everyone seemed to be having a ball, it was like a wonderful dream from start to finish (the finish seemed to come far too quickly sadly). 

We've had a lovely Christmas at home and are off on honeymoon down to Dorset tomorrow, so I will try to write what I can whilst we wait for the official pictures. 
Also - something I didn't share on my planning thread but I want to put here to give the full picture of the day. If you read my planning thread you'll know that my husband (HA!) and I have been trying to conceive for a long time and were under the fertility clinic. Well about 4 weeks before the wedding we found out I'm pregnant. Which is amazing, exciting news but incredibly anxiety inducing as I had a few bleeds and things in the weeks before and had to have early scans etc so that a little bit overshadowed the final preparations. I'm now about 9 weeks pregnant and touch wood everything seems good so far, we've seen a heartbeat and are cautiously optimistic! 

Ok so here's a quick picture to get us going.